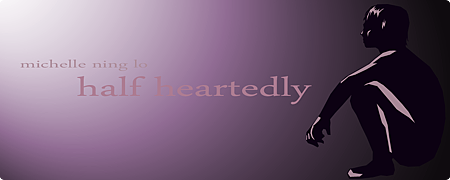 Chapter 6
"Jame-sy." Freeman said dreamily as he staggered beside me. "Where are we going? Baha."
"To my place. It's just around the corner." I held him by the arm so that he wouldn't lose his balance again. The boy was getting drunker and drunker by the minute. Good thing nobody's home tonight, I thought.
Because my parents' house is only a few minutes' walk from my college, I still stay with them to save rent. That evening, my parents had taken Samantha to her best friend's birthday party. She had been looking forward to it all week, saying that there would be games and desserts and all the things that an eight-year-old would dream about. Patrick and Miranda, needless to say, agreed to go with her so they could chat with the other adults. They love talking about their son and daughter with the other parents, always boasting about how well we behave at home and how proud they are of us.
"Here we are." I announced as we stepped up the front porch and into the house. Our house isn't large, but it is cool in the summer and warm in the winter. The interior was designed by Patrick himself, possessing a modern yet cozy atmosphere. My favourite place is the living room, where my father spent the most time working on. At first glance, it looks like a South American jungle. In it are many wooden statues and furniture my father built and carved himself. He said he got his ideas from ancient indigenous art. There is a large couch that has twisted animal figures carved all around the edges; a comic-looking hunter with his belly made as a clock; tall llama statues used for hanging hats and coats; and, situated in front of the couch, a wide, wooden table with the world map carved onto it.
"This place is fan-tastic! Hahaha!" Freeman awed as he caught sight of the room. He excitedly jerked towards it.
"No!" I pulled at his arm, making him lose his step. "We have to clean you up first, and then you can go in."
Freeman pouted disappointedly, but let me lead him to the bathroom. I left him there to wash off the dough chunks on his hair and face, while I went up to my room to get some clean clothes for him. When I came back down, he was standing at the bathroom door, a towel wrapped around his waist, yet still dripping water all over the floor.
"That was pretty fast." I said, handing him my shirt and pants. "Here. Dry up and put these on. And then we'll go to the living room."
Freeman smiled happily and changed in a matter of seconds. After I dried his hair and made sure that he was as clean as he could be, I led him to the guest room and sat him down on the couch.
"Don't go dancing around, alright?" I ordered. "It's already a risk for me to bring someone this drunk home. I don't need you to start breaking things."
Freeman saluted with a shaky hand. "Yes, sir. Bahahahaha!" He looked around the room in drunken admiration. The way his head was wobbling on his neck made me think he might pass out anytime.
"Hey, Jame-sy." Freeman said as he traced the outline of North America on the table with a finger.
"Yeah?" I said, pondering how I was going to get him home later.
"Tutto's daddy said that World War Three is happening in his chest. Haha." He was now slowly outlining Greenland.
"That's impossible." I said, starting to regret having taken him here to listen to his never-ending talks.
"But Tutto's daddy never lies." Freeman moved his finger to South America. I thought about the last time I heard him say this. We were on the roof, him talking and me listening. It was the first time I ever heard him say something meaningful, and it even had me thinking about the lessons in life. Maybe this time it would be the same.
"Why does he say that then?" I asked patiently, as if talking to a toddler.
Freeman had already finished tracing the shape of Australia, and was now moving on to the Asian-European continent. I watched his slim finger twirl on the table, thinking of how agile his movements were despite how drunk he was. Once again, neither of us made a sound, and once again, the silence had been too long.
"Freeman?" I said when he finally finished tracing the map. "Can you tell me what your father said to you?" It was strange how I always wanted him to talk when I knew how annoying it would become.
Freeman looked up from the table and peered at me with the big, orange eyes. "Tutto was at the construction site working with his daddy, and then his stomach started screaming." I knew better than to interrupt him this time. "And then Tutto woke up in bed, his daddy was sitting beside him."
What the hell? "Wait." I raised a hand for him to stop. "You were at the construction site, and then you suddenly woke up in bed?"
"Jame-sy is good at summarizing stories." Freeman smiled and gave me a thumbs-up.
I dropped my shoulders. Why did I even bother to make him speak? I mentally explained to myself that he was dreaming about himself being at the construction site, and then woke up with hunger.
"Tutto's daddy asked Tutto how he was. Tutto answered him that he was feeling fine. Tutto's daddy held Tutto's hand to his chest and let him feel his heartbeat. It was steady and firm, like the rhythm of a big drum. Tutto told his daddy that he liked to feel his heartbeat. Tutto's daddy smiled and told Tutto that the heart is like the drummer in a music band. Without the drummer, the whole band would lose control of the beat, and the music would be a mess. So, our bodies need the heart to do its beating everyday in order to stay under control of the movements the cells in our bodies make. Tutto told his daddy that he has a firm heart, and that he has good control over the movements of his body cells. Then Tutto's daddy sighed, and said that World War Three was now happening in his heart. Tutto didn't understand. Tutto's daddy placed a hand on Tutto's heart, like this." Freeman reached over and flattened his palm onto my chest. "He told Tutto that he has a strong heart; that even if World War Three were happening in Tutto's chest, he would be brave enough to win the war. Tutto's daddy told him that in order to make his heart strong, he has to have a kind of mental courage, and that mental courage is called 'faith.' As long as he has faith, he will be capable of winning the disastrous war." Freeman stopped for a while and smiled dreamily at nothing. "Tutto told his daddy that Tutto has faith in his daddy. His daddy told Tutto that besides having faith in him, he also has to have faith in everyone, especially his friends. If he has faith in his friends, then he doesn't have to worry if World War Three happens. His friends will always come to his help, and try their best to win the war, no matter how tough their situations are. That is the power of faith."
Freeman gave me a big smile and placed a hand on my shoulder. "Tutto has faith in you, Jame-sy." His smile shone too brightly.
I turned my face away from him, embarrassed of what I had done earlier. I knew that Paul and the others were going to play a joke on him, and I know the guys well enough to know that they are pros at bullying unpopular people. I knew I should have warned Freeman about their scheme. Yet, because I was afraid of being caught talking to Freeman, "the Zombie," and because I didn't want to risk upsetting my popular friends, I kept quiet.
Because of my selfishness, I let Freeman, someone who said he had faith in me, someone who called me his friend, be hurt.
"I'm sorry, Freeman." I could barely hear my own voice. "The joke, I knew, but I didn't tell you." I shuffled my legs uneasily. "I don't think I'm worthy of letting you have faith in."
Freeman rested his head comfortably on my shoulder and purred like a kitten. "But Jamesy still came to Tutto's help."
I blinked. He was right. I didn't really take him as my friend, but when I saw him being picked on, I still tried my best to protect him. Just like his guardian angel.
Maybe I did think of him as a friend all along, I just couldn't admit it. Not even to myself.
"Friends will come to your rescue, no matter how tough situations are." I quietly repeated what Freeman had said to me, as if reminding myself what a friend should be like.
After absorbing Freeman's story and thinking it through for a while, I raised my head to look at the clock. To my surprise, it was already eight.
"Hey, Freeman. What do you want for dinner?" I stood up, and yelped when Freeman's body went limp and slumped onto the sofa. I covered my mouth in shock and stared at him, wondering what had happened. To my relief, he moaned quietly and rolled into a comfortable position onto his side.
"He's just sleeping." I thought out loud. The chocolate must had done its spell.
I walked out of the living room for the kitchen, only to rush back and try in vain to shake Freeman awake. He was sleeping like a corpse.
Great, I thought warily. What am I gonna say when Mom and Dad come back?
Once again, Tutto Freeman proved that he could always get on my nerves.

 1 2 3 4 5 6 7 8 9 10 11 12 13 14 15 16 17 18 19 20 

第六章
「小-詹詹。」福利曼在我身旁跌跌撞撞走著說。「我們要去哪裡呀?吧哈。」
「去我家。就在這附近。」我抓住他的手臂不讓他摔倒。那男孩好像越走就越醉。還好今天沒人在家,我在心裡想著。
因為我父母家距離我的大學只需要走幾分鐘的路,我還是和他們住來省住宿費。那天晚上,我爸媽帶珊曼莎到她好朋友的生日派對。她期待今晚的到來已經一整個禮拜了,不斷告訴我們那裡會有遊戲跟點心,所有八歲小孩夢想中的東西都應有盡有。派翠克和米蘭達也理所當然地答應和她一起去,他們也可以和其他家長們聊天。他們最愛和別的父母親談論孩子們的事,每次都炫耀著我們在家裡多乖順、他們多以我們為傲。
「到了。」我對福利曼宣佈,我們踏進前門走進房子裡。雖然我們家不大,但是屋子裡冬暖夏涼。室內裝潢是派翠克親自設計的,釀造出具現代感但溫暖舒適的氣氛。我最喜歡的房間是客廳,那也是爸爸花最多心思的房間。乍看之下,整個空間看起來像個南美叢林。裡頭是我爸爸親手雕刻的雕像和家具。他說他的靈感全來自於古代原住民的藝術品。客廳的大沙發邊緣刻滿了扭曲的動物刻像;時鐘是一個卡通化獵人的大肚子;衣架是幾隻高高的駱馬雕像;最後,沙發前的木頭桌子桌面上刻了世界地圖。
「這個地方太棒了!哈哈哈!」福利曼一看到客廳就大聲讚嘆著想往裡面彈跳進去。
「不行!」我馬上拉住他的手,害他又摔倒了。「我們先把你洗乾淨才可以進去。」
福利曼失望地嘟著嘴,但是還是乖乖地讓我帶領他到浴室。我讓他自己洗掉頭髮和臉上的麵糰,我到我樓上的房間幫他拿乾淨的換洗衣服。當我下樓時,他已經站在浴室門口,雖然一條大毛巾圍在腰上,還是把水滴得滿地。
「還蠻快的嘛。」我說,將我的衣服和褲子遞給他。「來。擦乾後把衣服換好,然後我們才可以去客廳。」
福利曼笑著一下子就換好了。在我擦乾他的頭髮確定他乾淨到不能再乾淨後,我帶他到客廳,叫他在沙發上坐下。
「不可以亂跳喔。」我命令他。「帶一個這麼醉的人回家已經很冒險了。如果你還給我破壞東西我就慘了。」
福利曼用一支顫抖的手敬禮,說,「是,大人。吧哈哈哈哈!」他醉醺醺地觀賞著房間,頭在脖子上擺來擺去的讓我擔心他隨時會昏倒。
「欸,小-詹詹。」福利曼說著,一邊用一根手指頭描著桌子上北美洲的輪廓。
「幹嘛?」我回答,思索著待會如何送他回家。
「土豆的爸爸說第三次世界大戰正發生在他的胸口裡。哈哈。」他到這時已經在描格林蘭島。
「不可能啦。」我說著開始後悔把說話說不完的他帶到家裡來。
「可是土豆的爸爸不會騙人。」福利曼將手指移到南美洲。我想到上一次聽到他說那句話時,我們在系樓屋頂上,他講著話,我在聽。那是我第一次聽他訴說有意義的事,他的話也讓我思考著生命中的道理。說不定這次也會是那樣。
「那他為什麼那樣說?」我像和小朋友說話一樣耐心地問。
福利曼描好澳洲後又跑去描歐亞大陸。我看著他乾細的手指在桌面上舞蹈著,疑惑著他即使那麼醉手卻可以這麼靈活。又一次,兩個人都沒有發出任何聲音。又一次,安靜的氣氛持續太久了。
「福利曼?」我等他終於描完地圖後,說,「你可以告訴我你爸爸對你說什麼嗎?」奇怪的是,雖然我知道結果會令人厭煩,我還是一直想讓他說話。
福利曼原本注視著桌子的那雙橘色大眼睛抬起來望向我。「土豆那一天在工地跟他爸爸一起工作,但是他的肚子突然尖叫起來。」我這次學乖,不敢更正他了。「然後土豆醒來在床上,他爸爸坐在他旁邊。」
這什麼東西?「等一下。」我舉起一支手叫他停下。「你在工地,然後你又突然在床上?」
「小-詹詹很會作概述吔。」福利曼笑著給我比大拇指。
我肩膀無奈地垮下。我為什麼要叫他講話啦?我自己在心裡對自己解釋說他是夢見自己在工地,然後餓醒了。
「土豆的爸爸問土豆怎麼樣。土豆說土豆很好。土豆的爸爸將他的手擺到他的胸口來感覺他的心跳。心臟穩重又強壯,像大鼓的節奏。土豆和他爸爸說他喜歡感覺他的心跳。土豆的爸爸笑了一下跟土豆說心臟像是樂團裡的鼓手。少了鼓手,整個樂團會失去節拍,音樂也會亂掉。所以,我們的身體需要心臟的跳動來維持身體細胞穩定地工作。然後土豆的爸爸嘆了口氣,說第三次世界大戰正發生在他的胸口裡。土豆聽不懂,所以土豆的爸爸把手放在土豆的胸前,像這樣。」福利曼將手伸過來擺在我的胸口。「他說土豆有一顆很強壯的心臟。即使第三次大戰在土豆的胸裡發生,他也能夠勇敢地打敗敵人。土豆的爸爸說如果要讓心臟強壯,他需要一種內心的勇氣,也就是信心。只要他有信心,他就可以在悲慘的戰爭中得勝。」福利曼停頓了一下,對著空氣笑。「土豆跟他的爸爸說土豆對他爸爸很有信心。他爸爸說,除了對爸爸有信心外,也要對其他人有信心,尤其是他的朋友們。如果他對朋友有信心,那他就不用擔心第三次世界大戰了,因為朋友永遠會來幫助他,不管多艱辛都會盡他們所能贏得勝利。那就是信心的力量。」
福利曼對我燦爛的笑著,將一支手擺在我的肩上。「小-詹詹,土豆對你有信心喔。」他的笑臉顯得過度閃亮。
我轉頭,對於自己先前的行為感到羞愧。我明明知道保羅他們要整他,也明明知道那些人是整人專家。我明明知道自己該至少和福利曼說一聲小心,可是因為我怕被人看見和福利曼-又稱「殭屍男」-說話,也不敢讓我受歡迎的朋友們失望,結果我什麼都沒說。
因為我的自私,我讓福利曼-一個和我說他對我有信心、稱我是朋友的人-受到傷害。
「真的對不起,福利曼。」連我自己都聽不太到我的聲音。「他們整你,我知道,可是沒跟你講。」我不安地跨腳。「我覺得我不值得你對我有信心。」
福利曼把頭靠在我的肩膀上,像小貓一樣發出低沉的顫抖聲。「可是小詹詹還是有來幫土豆啊。」
我眨了眨眼。也對。我雖然說不把他當朋友,可是當我看到他被欺負,我還是盡力保護他。就像他的守護天使。
可能我根本已經把他當真正的朋友看了,我只是不敢承認,對自己也不敢說。
「不管多艱辛朋友都會盡所能幫助你。」我小聲重述福利曼先前的話,想提醒自己朋友的定義。
花了一段時間反省著福利曼的故事後,我抬頭看一看時鍾,驚覺已經八點了。
「欸,福利曼,你晚餐想吃什麼?」我站起時大叫一聲,因為福利曼的身體軟趴趴地倒在沙發上。一手蓋著嘴巴緊張地瞪著他,我想著他怎麼了。還好,他嗚咽了一聲轉身舒服地側躺著。
「睡著了。」我自言自語。巧克力應該是發作了。
我走出客廳到廚房,卻又馬上跑回客廳,設法將福利曼搖醒,但沒有用,他已經睡得跟死人一樣熟。
可惡,我疲倦地想,爸媽回來我要怎麼辦?
又一次,土豆‧福利曼證明他不管怎樣都可以惹我麻煩。

 1 2 3 4 5 6 7 8 9 10 11 12 13 14 15 16 17 18 19 20 

-羅寗 Michelle Ning Lo