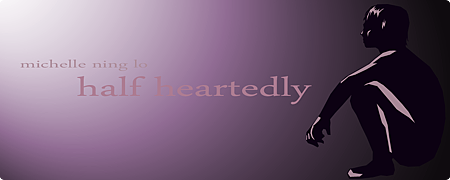 Chapter 5
I remembered the last time I had gone running after someone was a year ago, when my mother and father had had a serious argument. It had started out as a dinnertime husband-and-wife chat, but in the end, they had been practically roaring at each other over whether or not my father had still kept the love letters from his ex-girlfriend. Patrick had insisted that he had thrown the letters away right after he had gotten dumped by her, but Miranda just couldn't believe him, saying that she had often seen the pink envelopes neatly kept in the bottom drawer of my father's work desk. This had made my father so furious that he had stood up and flipped the kitchen table over, spilling the food all over the floor. My mother had been upset beyond words, and had chosen to storm out the house, running away as far as her indoor slippers could take her. Needless to say, the person responsible to take her back had been me, and I had found myself running without even knowing where I was heading for, yet I just had the sense that I was going in the right direction. Eventually, I had found my mother curled up beside a brick wall, weeping uncontrollably.
As I opened the big iron door and stepped out onto the roof of the department building, I saw Freeman sitting in the corner of the brick walls that surrounded the roof. He hung his head, hiding his face under his hair. Yet, I knew he was crying.
Or, I assumed.
I slowly walked towards him. He was still covered in dough, the white clots sticking mercilessly to his hair and clothes. I leaned forward and gently put a hand on his shoulder, thinking of what I should say to him in this situation.
I remembered when I had been approaching my mother that evening when she had run away, I had also been faltering for words. Yet, when my mother had heard someone nearing her and had raised her head to look at me, I had been saved from awkwardness, for she had suddenly burst out laughing, saying that she had all of a sudden recognized the pink envelopes to be the ones she had used when she had been dating Patrick. She had gotten so jealous when she saw the envelopes in Patrick's drawer that she started thinking irrationally.
Just like that evening, as I stood before Freeman's hunched body, it didn't take long before all the anxiety left my mind like water down a drain.
"Jame-sy. Yahaha!" Freeman looked up at me with the most stupid face I had ever seen anybody wear. "You found Tutto. Tutto can't believe it. Bahahaha!"
I stepped away from him, disbelief written all over my face. I ran all the way here worried to death about you and you go around acting like this?
"Jame-sy. Tutto's best friend. Hahahaha!" Freeman clumsily stood up and walked towards me, stumbling here and there. He was holding something small in his hands, but he was dancing too much for me to see clearly.
"Hey! Tutto didn't know Jamesy has a twin brother. He looks exactly like you! Hahaha!"
What the hell is he talking about? I could swear that he was acting odder than usual, if that was possible. He seems…drunk?
Freeman only managed to move a few steps further before his knees gave way, sending him crashing onto the cement floor. I hurried over to help him up, grabbing him by the arms so he wouldn't start dancing again.
"What's wrong with you?" I asked, checking to see if he was hurt.
Freeman giggled uncontrollably, his eyes glancing up at me dreamily. "Do you want some chocolate, Jame-sy?" He asked, offering me the thing he was holding in his hand.
"Chocolate?" I stared at the small bag of M&M's on his open palm; then I looked at him. Oh. My. God.
"Tutto loves chocolate. Waha!" Freeman tried to struggle free from my grasp, but lost his balance again. I slowly made him sit on the floor and took the chocolate from him, holding it out of his reach.
"No more chocolate for you." I scolded, as if talking to a kid.
Freeman tried to take his candy back, but soon gave up and peered at me with big puppy eyes. "Tutto's not happy." He said, pouting his mouth.
"It's illegal to get drunk when you're underage." I said, dumping the rest of the M&M's into my mouth. "Look at you. You're seeing doubles."
"Then how come Jame-sy can have them?" Freeman asked, eyes locked on me while his body swayed involuntarily.
"Because you might be the only person in the world who gets drunk on chocolate." I said matter-of-factly.
"That's so unfair." Freeman hugged his knees and buried his face in his arms. For a moment I thought he was going to cry, but soon his muffled giggles crept into my ears.
This was the second time I genuinely looked at him. He was rocking his body back and forth, chunks of hardened dough falling off from his cloths. His formerly smooth, amber hair now stood up like pricks, making his head look like a round, pale porcupine. This was probably the first time the boy ever got the attention of his fellow classmates, and it turned out to be like this.
I sighed and sat down beside him. "Freeman, I'm sorry." I said in a low voice.
Freeman looked up at me. The dough on his face had dried and cracked.
"I knew they were going to play a joke on you." I tried to look him in the eye, but found it impossible. "I didn't tell you."
Freeman suddenly let out a loud laugh and slapped his palm on my back. "What's there to be sorry for, Jame-sy?" He purposefully scratched his head, sending dough crumbs flying everywhere. "Tutto let everyone have a good time. Bahahaha!" I fled away from him, brushing the dough crumbs off my shirt. Can this guy be not annoying for once?
Freeman was now crazily swaying his arms in the air, watching the effect of the dough crumbs snowing around him. I observed him from where I stood, glad that he was feeling good, yet still, a bitter emotion clung to my heart like the dough to his hair. He's actually enjoying himself after what happened.
"Alright. That's enough." I walked over to the drunken boy, careful not to be hit by his dancing arms. "Let's go clean you up."
As I supported Freeman down the long stairway and out of the school building, I thought of how close we had become in the past few days. I had been classmates with him for more than a year, but never had I really considered the guy as someone I would help and care for as I was doing now. My former opinion of the guy was that he was a creepy, quiet person who would act like a ghost in front of other people, but all of a sudden would transform into an annoying, talkative maniac when he was alone with me. I never found the time or the energy to listen to him babble of all the stupid things he liked to tell me, and neither did I care about what he really felt when I yelled at him or walked away from him.
But after the talk at our secret hiding place, after he told me that he wanted to be my guardian angel, I thought different of this strange guy. I found that he wasn't as annoying as he appeared, that what he talked about wasn't as meaningless as it all seemed. He had his own opinions, his own values, and his own feelings. He just expressed them in a way different from how normal people would. It isn't a sin to be different, that's what adults and teachers tell us. But is it really that easy to understand and practice the meaning behind that statement?
Freeman may have appeared to be brainless and crazy, yet what he did and said really can make a difference to the aspects of the people who would earnestly listen to him.

 1 2 3 4 5 6 7 8 9 10 11 12 13 14 15 16 17 18 19 20 

第五章
我記得我上次跑著追人是一年前,我爸媽吵架的時候。一開始只是邊吃晚餐邊聊天的兩人,結果卻對著彼此狂吼狂叫,爭執著我爸爸到底還有沒有把他前女友的情書留著。派翠克堅持說他分手後就將情書丟掉了,可是米蘭達就是不相信,說她明明就有看過那些粉紅色的信封整整齊齊地擺在我爸爸書桌最底下的抽屜裡。這讓爸爸生氣到站起來翻桌,把食物弄得滿地。媽媽極度不高興,選擇氣呼呼地衝出屋子,穿著拖鞋跑得遠遠的。不用說,負責帶她回來的人就是我。我雖然完全不知道我朝著哪裡跑去,但是我心裡就是有種感覺告訴我我的方向沒有錯。最後,我在一個磚牆下找到哭個不停的媽媽。
當我推開鐵門走到系樓的屋頂上,我看見福利曼坐在圍著屋頂磚牆的一個角落裡。他低著頭,臉被頭髮遮住了,可是我看得出來,他在哭。
可是其實,我也只是在猜。
我有點遲疑地走向他。他仍然全身被麵糰覆蓋,頭髮和衣服被麵糰無情地黏住。我彎下腰,輕輕地將一支手放在他肩膀上,腦裡思索著要對他說什麼好。
我記得我媽媽跑走那天晚上,我也是這樣遲疑著接近她,不知該對她說什麼。不過,當我媽媽聽見有人靠近她後抬頭看見我時,尷尬的場面就沒了,因為她突然張口大笑,說她忽然驚覺那些粉紅色的信封是她和派翠克約會時用的信封。她看見派翠克抽屜裡的信封後,竟然嫉妒到失去理智了。
和那天晚上一樣,我站在福利曼縮著的身子前,不久後我心裡所有的不安像水在排水溝裡一樣流光。
「小-詹詹!呀哈哈!」福利曼抬頭看我,臉上的表情是我看過最惱殘的臉。「你找到土豆了。土豆不能相信吔!吧哈哈哈!」
我一臉難以置信地退步。我一路跑來這裡為你擔心得要死,你卻給我這副德性?
「小-詹詹!土豆最好的朋友。哈哈哈哈!」福利曼搖搖晃晃地站了起來,往我這邊走,一路東倒西歪。他手裡拿著一個小物體,可是他的手揮來揮去讓我無法看出東西是什麼。
「吔?小詹詹有個雙胞胎土豆怎麼不知道?他跟你長得一模一樣吔!哈哈哈!」
他講那什麼東西呀?我可以發誓他比平常還怪,如果有這種可能。他好像…醉了?
福利曼才跨了幾步,腳就癱軟,一個人就垮在水泥地上。我跑過去幫他並抓緊他的手讓他不能再亂跳舞了。
「你在幹嘛啦。」我說著,檢察著他有沒有受傷。
福利曼不停地傻笑著,眼矇矇地向上看著我。「你要吃巧克力嗎,小-詹詹?」他問我,給我看手裡拿著的物體。
「巧克力?」我看著他手裡那一小包MM巧克力,又看著他。我。的。天。
「土豆最喜歡巧克力。哇哈!」福利曼設法掙脫我,可是又失去平衡了。我慢慢逼他坐在地上後將巧克力搶走,舉得高高的不讓他拿。
「你不可以吃巧克力。」我罵他像跟小孩子說話一樣。
福利曼試著搶回巧克力沒多久就放棄了,用裝可憐的大眼睛望著我。「土豆不高興。」他說著嘟起嘴巴。
「未成年喝醉是違法的。」我說完將一整包巧克力倒進嘴裡。「你看看你啦。眼睛都已經失焦了。」
「那為什麼小-詹詹可以吃?」福利曼問。他雖然眼睛盯著我,身體卻不斷晃動著。
「因為你大概是全世界唯一吃巧克力會醉的人。」我理直氣壯地說。
「不公平。」福利曼抱著雙膝,將臉靠在手臂裡。我以為他要哭,可是不久後聽到他被摀住的傻笑聲。
這是我第二次認真地看了他一遍。他身體前前後後地擺動著。一塊一塊的硬麵糰從他的衣服上剝落。他原本滑順的琥珀色頭髮這時豎起像一根一根的刺,使他的頭看起來像隻圓圓白白的刺蝟。這可能是這男孩第一次被身旁的同學注意到,但是竟然變成這樣。
我嘆了一口氣在他身邊坐下。「對不起啊,福利曼。」我低聲說。
福利曼抬頭看著我,臉上的麵糰已經開始龜裂。
「我知道他們要整你。」我想要直視他的眼睛,可是發現不可能。「我沒告訴你。」
福利曼忽然大笑一聲,一掌拍在我背上。「幹嘛對不起嘛,小-詹詹?」他故意抓了抓頭,把碎碎的麵糰弄得滿天飛。「土豆讓大家開心啊。吧哈哈哈!」我跑著離開他,一邊將身上的麵糰削拍掉。這個人可不可以一天不要煩我呀?
福利曼這時瘋狂地揮舞著雙手,看著麵糰削像雪一樣在他身邊飛舞。我從我站著的位置觀察他,雖然高興他心情好像不錯,但是不免有種酸苦的滋味像麵糰黏住福利曼頭髮一樣抓住我的內心。發生那種事他竟然還那麼享受。
「好了好了,夠了。」我走向那個醉漢,躲避著他揮動的手。「我們去把你弄乾淨。」
當我扶持著福利曼下樓梯出系樓,我想到我們兩個這幾天變得親近好多。我和他同學已經一年多了,但是之前的我從來沒有想過他會變成一個我會像這時一樣關心和幫助的人。我先前對這個人的印象就是他在別人面前表現得陰森又安靜,像鬼一樣,但和我單處時就會突然變得煩人又多話。我從來都沒有耐心聽他碎碎念著他喜歡跟我講的事,也從來沒有想過當我叫他走開時,他內心是怎麼想。
但是,那天在秘密基地聊天後,他告訴我他想當我的守護天使後,我開始對這奇怪的人有不同的想法了。我發現他其實沒有那麼惹人厭,說的話也不是聽起來的那麼無意義。他有他自己的想法、自己的價值觀、和自己的感情。他只是和正常人表現的方式不一樣而已。和別人不一樣不是壞事,這是大人和老師們不斷在教導的道理。但是,真正了解並實踐這句話背後的意義有那麼簡單嗎?
福利曼雖然乍看下愚蠢又瘋癲,但是他說的話和做的事可以改變那些願意認真聽他的人。

 1 2 3 4 5 6 7 8 9 10 11 12 13 14 15 16 17 18 19 20 

-羅寗 Michelle Ning Lo