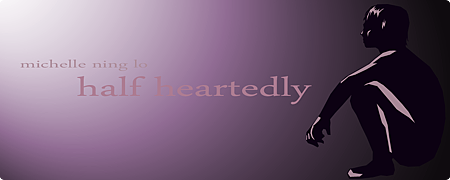 Chapter 20
I pressed the doorbell. I was standing on the porch of Tutto and Leona's house, dressed in a plain black suit, holding a small white rose. A week had gone by since the morning Tutto passed away. When Leona's aunt had finally arrived at the house that evening, I was politely sent home, thanked for all the help and time I had contributed, and reassured that they would be able to handle everything from then on.
The following weekend had been uneventful. I couldn't find the motivation to do anything. My family had been very understanding, respecting the fact that I needed some time alone but not forgetting to let me know that they were there if I needed them.
The following Monday, I had gone to class. It was an odd moment realizing that Tutto's death had not changed anything. The building had still been flooded with noisy college students, Mrs. Tanlle had still been threatening to flunk me in class. When I had climbed up onto the roof for a moment of peace, the sun had still been shining like a brand new light bulb, the trees had still swayed and danced in the winter breeze. I had sat down in front of one of the walls that lined the roof and had put my palm against the brick; it had still felt warm, as if Tutto had just been sitting there beside me.
What had changed were the seats at the corner of each of our classrooms. They were now always empty, standing in the shadow like loyal dogs, waiting for their owner to return to them.
My three buddies had also changed. They had come up to me with sad faces during lunchtime, sitting down quietly beside me, wordlessly eating their lunches. I had peered at them curiously for I had never seen them act so seriously before.
I had chuckled a bit, breaking the silence. "You guys can still talk, right?"
Albert had been the first to peel off the somber mask. "I can't believe he's just gone like that, James." I had stiffened my back in preparation for a bone-breaking slap of Albert-style consolation. It had come, but was surprisingly gentle. "Man, James, I feel horrible." Albert had put a large hand on my shoulder, "I can't imagine how you must feel."
"Yeah." Daichi had been tapping his chin, but I had noticed how he had lost his rhythm. "You were closest to him."
Paul hadn't said anything. I could see he was still crestfallen.
"I'll be fine." I had said, sounding a bit too cheerful even to myself. "I mean, it is painful right now, but we have to move on somehow, right?" I had directed the question at Paul.
Paul had looked at me with sad eyes and nodded. I had smiled and patted his back.
Leona had called me a couple evenings later to tell me about the funeral. I had been glad to hear the strength that had returned to her voice. She had told me that everything was going smoothly and she was slowly overcoming the grief. She had asked how I was doing, and I had told her truthfully that I was doing alright as well.
Four days after that, on a sunny yet chilly Sunday morning, I arrived on Leona's porch. Almost immediately after I rang the doorbell, Leona opened the door and let me in.
"Thank you so much for coming." Leona said as she led me into the living room. Her aunt was standing in front of the couch, gesturing for me to sit down.
I placed the white rose into the small vase that was standing beside Tutto's coffin. As I sat down on the couch, Leona and her aunt each took a seat in a chair so that we formed a circle. A photo of Tutto was placed on the living room table in the center of the circle.
Her aunt spoke first. "This is going to be a very small ceremony." She smiled a bit. "It's just going to be the three of us it seems. We're all that's left of the family, and Leona says Tutto didn't have any friends but you."
I nodded slightly. "He didn't really like too much company, I'm sure he would have preferred a smaller ceremony."
Leona's aunt looked down at the photo of Tutto on the table. "We thought so too. And there isn't going to be much of a ceremony either. We thought we could just sit and talk about him. Reminisce." She tilted her head to the right. "I never really got to know him after he lost his memories. I used to come down quite often to help my sister take care of the two of you." She smiled at Leona. "I never got married but I still loved kids, so whenever my job allows me, I would head down here for a day or two to play with you twins."
"I loved it when you were here." Leona said. "You were my favourite grownup."
Her aunt laughed a hearty laugh. "You two were the cutest. Tutto was all over the place. He was curious of everything around him. He always wandered off on his own to look at a bug or a strange plant, and he would never stop asking questions! Leona, on the other hand, would never stop following me. She always clung to me like a koala bear." The older woman chuckled. "You two were just so different. I still can't wrap my head around the fact that you were twins."
Leona smiled. "Fraternal twins don't have to be the same."
Her aunt continued. "But after the poor boy had his first heart attack, his mother told me not to come down anymore. She told me he had lost his memory and was not comfortable with strangers. So I stopped coming."
"Mom had lied." Leona said bluntly. "He wasn't responding to anybody but Dad, but he could still come to like other people."
Her aunt smiled a sad smile. "I guess you're right. I didn't think your mother would ever get so depressed and so I just believed what she said." She suddenly clapped her palms together. "But let's talk about something happier. James, tell us how you and Tutto became friends. It's rather a miracle, don't you think, considering he never talked to anyone."
I shrugged. "It just kinda happened after Leona and I started going out." I looked to Leona, feeling a little awkward for we had broken up. To my surprise, the expression she had in return could be read as one of longing. "To be honest, I never noticed Tutto before I started to get to know Leona. It was only after he came up to me one day after classes and started following me around and talking nonstop that I started to notice him."
Leona's aunt laughed again. "I think he started talking to you because you were Leona's boyfriend." She turned to Leona. "You two were twins after all, and twins always have these weird bonds. I think because James was an important person to you, Tutto saw him as an important person as well."
I nodded thoughtfully as I recalled the photograph tucked inside Tutto's notebook. Tutto said he knew everyone in the picture, and a young me had accidentally be included in the shot. For the past week that picture had been on my mind. Was it because of that that Tutto started talking to me? But why didn't he come up to me before I started dating Leona? But if what Leona's aunt just said was right, why didn't Tutto ever talk to his sister?
"Whatever the reason, James," Leona's aunt suddenly said, as if she could read my mind. "The friendship that you and Tutto had was definitely very special." She smiled.
I smiled back. I would never be able to know for sure why Tutto started talking to me, but I can say without hesitation that he saw me as a good friend, and that was all that mattered. This was one of those questions which I could just let go of.
The doorbell rang, startling the three of us. "I thought the funeral people weren't gonna be here until after lunch." Leona's aunt pointed out. I looked at the clock. It was only ten in the morning.
Leona got up and opened the door. The voices coming from the visitors sounded awfully familiar. It was only when Leona led the newcomers in did I jump in surprise. "You guys really came?"
Paul, Albert, and Daichi stood at the entryway to the living room, wearing plain black suits, each holding a small flower. After they had placed the flowers into the vase, they sat down beside me.
"I mentioned the funeral to them because they had spent a lot of time with Tutto." Leona explained to her aunt. "But I didn't know if they would come or not."
"Of course we would come." Albert said a bit too loudly. "We just weren't sure what time it started."
"That's my fault." Leona admitted. "I was so sure you guys wouldn't come that I didn't even bother to give you a time."
"I know we weren't the nicest people to him at first," Daichi said, "but after spending some time with him and getting to know him a bit, he turned out to be a really, really nice person."
Albert was suddenly gaping at Leona. "I still can't see how you two are twins."
I laughed, recalling a few days ago when my three buddies had rushed up to me to tell me "the big news." Leona had called them individually to tell them about the funeral, but not without having to explain to them what her relationship with Tutto was. The looks on their faces were so distorted with surprise I was worried they might pull a face muscle.
When the guys had settled down a bit, Leona's aunt said to them, "We were just in the middle of sharing our memories of Tutto. Why don't you guys share something?"
Albert immediately blurted out, "I was horrible to him. I made fun of him and made him act like a zombie and made him dress up like a turkey."
When Leona's aunt turned to her niece to give her a "what is going on?" look, I quickly said, "I've asked Tutto why he still agreed to meet with us when he knew we were just going to bully him."
Daichi tapped his chin. "What did he say?"
"He said he was glad you guys included him in things." I said. "He loved those little plays you guys put on, and he was glad he got to be a part of them."
The three boys looked down thoughtfully.
After a while, Paul sniffed a bit and said quietly. "He smiled at me."
I nodded to myself, recalling the day of the Thanksgiving celebration, when Tutto had smiled for Paul when Paul had said he was getting to like the boy. Leona was right. Although Tutto never talked to anyone other than his father and me, he never hated anyone and was capable of making friends with people who could understand his situation.
The six of us talked about Tutto for a couple more hours before Leona's aunt served a simple lunch. When the morticians arrived, we were driven along with Tutto's coffin to a crematory where Tutto was cremated.
Everything had happened like sunshine coming through an open window. It wasn't a particularly sad day, and the sunny weather lightened up the atmosphere significantly. We had been talking about the happy memories we had with Tutto, and then it was time to say goodbye. He went into the furnace, and a few hours later he returned to us as a small, green urn, which Leona gently placed into the glass cabinet that housed the pictures, beside two other urns that I had failed to notice before. The other two urns must have been of Tutto's parents.
The next day, it was like nothing had happened. It felt like Tutto was already a faraway memory tucked away safely in my heart. Life went on as it always had: my friends would fill up my after-class schedules, professors would either pick on me or put me to sleep, and I would still win everyone's hearts with my signature smile.
A week after Tutto's funeral, Leona and I had gotten back together. Having all my questions explained that night at the hospital, I got to know her much more than I can ever imagine. She also started to open up even more than she had before. Although she still retains the air of a lone she-wolf who associated with no one, she is now able to talk to me about things that are on her mind, and I am also able to be more honest to her. She admits that she is still fighting her jealousy problems, and I promise her that even if everyone saw her as evil, I will be the only one who would not give up on her.
I still go up to the roof occasionally, sometimes with Leona or my buddies, sometimes alone. It is a special place to me, almost sacred. Whenever the sun shines and the trees dance with the breeze, I could swear that Tutto is still standing there, swaying his long limbs here and there, talking to the world about everything.
His story isn't exactly a happy story, but it isn't a sad one either. I guess it could be somewhere in between, or it could be neither. But I know it was a meaningful story, and so I want to share it with anyone who would listen.
I guess this was how Tutto felt when he shared his father's story with me.

 1 2 3 4 5 6 7 8 9 10 11 12 13 14 15 16 17 18 19 20
第二十章
  我按門鈴。我站在土豆和雷恩娜家門前,穿著簡單的黑西裝,拿著一朵白玫瑰。土豆已經去世一個禮拜了。那一晚雷恩娜的阿姨終於抵達房子時,我被請了回家。她們對我所做的一切道謝並且讓我知道她們可以獨自處理事情。
  那之後的週末非常無事,我完全找不到做事的動機。我的家人很體貼,讓我有單處的空間但是不忘讓我知道我有需要時他們就在身邊。
  之後的禮拜一我到了學校,對於發現土豆的死完全沒有改變什麼這件事感到奇怪。系樓還是充滿著吵鬧的學生,坍尼爾教授還是威脅著要當我。當我爬到屋頂上尋找安寧時,太陽還是照耀著像一顆新燈泡,樹木還是隨著冬風揮舞。我坐在圍著屋頂的一塊牆前,將手掌平放在牆的磚頭上。磚牆還是溫溫的,像土豆剛剛才坐在我旁邊一樣。
  改變的是每間教室角落的座位。它們現在一直空著,在陰影裡站著像衷心的狗兒等著主人回來。
  我的三個伙伴也變了。他們午餐時表情哀傷地走了過來,坐在我旁邊,沈默地吃著午餐。我好奇地看著他們,沒見過他們這麼嚴肅。
我忍不住笑了一下,打斷沈靜。「你們還會講話吧?」
  亞伯特第一個脫下哀傷面具。「我真的不能相信他就這樣走了,詹姆斯。」我聳起背準備要被他打一掌亞伯特式的安慰法。手掌有來,可是出奇地溫柔。「真的,詹姆斯,連我都好難過喔,」亞伯特把一支大手放在我肩上。「我根本不敢想像你的感受。」
  「對呀。」大智彈著下巴,但是我注意到他節奏不穩。「你跟他最親。」
  保羅什麼都沒說。他已經心碎了。
  「我會沒事啦。」我說,聲音連自己聽都感覺太開心了。「我是說,現在是真的很難受,可是我們也只能想辦法繼續生活啊,對不對?」我對著保羅問。
  保羅用哀傷的眼睛看我,點點頭。我微笑拍拍他的背。
幾天後的一個晚上,雷恩娜打電話來跟我說喪禮的事。我很高興聽到回到她聲音裡的精神。她告訴我一切都還算平順而她也慢慢在調節心情。她問我過得如何時,我也真心地說我還算不錯。
四天後,一個晴朗但寒冷的禮拜天早晨,我來到雷恩娜的門前。我按門鈴沒多久後雷恩娜開門讓我進去。
  「真的很謝謝你來。」雷恩娜說著帶我進客廳。她的阿姨站在沙發前叫我坐下。我將白玫瑰插進擺在土豆棺材旁的花瓶裡。我坐在沙發上,而雷恩娜和她阿姨各坐在一張椅子上,三人圍成一圈。我們中間的客廳桌子上擺著一張土豆的照片。
阿姨先說話。「這會是一個很小的典禮。」她微微地笑。「好像只會有我們三個。我們兩個是家族唯一剩下的人,而雷恩娜說你是土豆生前唯一的朋友。」
我輕輕點頭。「他本來也不喜歡太多人,我想他應該比較喜歡小典禮。」
雷恩娜阿姨低頭看桌上土豆的照片。「我們也這樣想。這也不會是什麼典禮啦,我們想說就坐下來一起聊他的事,回憶一下。」她把頭向右歪。「他失去記憶後我就沒能跟他很熟了。我以前還蠻常下來幫我妹妹照顧妳們兩個的。」她對雷恩娜笑。「我沒有結婚可是還是很愛小孩,所以每當工作許可時我就會來這裡一兩天陪妳們雙胞胎玩。」
「我最喜歡妳來了。」雷恩娜說。「妳是我最喜歡的大人。」
阿姨大笑。「妳們兩個真的很可愛。土豆每次都跑上跑下,對什麼都好奇。他每次都自己跑走去看一隻蟲或一棵奇怪的植物什麼的,也真的問問題問不停!雷恩娜則是跟屁蟲不會離開我。每次都纏著我像無尾熊一樣。」阿姨咯咯笑了一下。「妳們兩個完全不一樣。我還是不能理解妳們怎麼會是雙胞胎。」
  雷恩娜笑說,「龍鳳胎又不一定要一樣。」
  阿姨又繼續,「可是那可憐的孩子第一次病發的時候,他媽媽就叫我不要再下來了。她跟我說他失去記憶,對陌生人會害怕,所以我就沒來了。」
  「媽媽騙人。」雷恩娜斷定地說。「他雖然只會和爸爸說話,可是他還是對其他人能有好感。」
  阿姨笑了笑。「我想也是。我沒想到妳媽媽會變得這麼憂鬱,所以我就相信她了。」她突然拍手。「可是來聊一些開心一點的話題吧。詹姆斯,告訴我們你怎麼和土豆變朋友的。其實還蠻神奇的,你不覺得嗎?他都不和別人說話。」
  我聳聳肩。「好像我跟雷恩娜開始交往的時候就自然而然地發生了。」我看雷恩娜一眼,有點尷尬因為我們已經分手了。出奇的是,她回我的眼神卻可以被讀成渴望。「說真的,我認識雷恩娜之前從來沒有注意到土豆。只是有一天他突然下課的時候跑來找我,一直跟著我講話講個不停,那之後我才知道有他這個人。」
雷恩娜的阿姨又大笑。「我覺得他開始跟你講話是因為你是雷恩娜的男朋友喔。」她轉頭看雷恩娜。「妳們兩個畢竟是雙胞胎嘛,雙胞胎就會有一種奇妙的聯合。我覺得可能因為詹姆斯對妳是個很重要的人,土豆也就把他看成重要的人了。」
我思考著點點頭,想起藏在土豆記事本裡的那張照片。土豆說他認識照片裡的每個人,而一個幼小的我不小心被照在照片裡面。一整個禮拜那張照片一直在我腦袋裡。是因為那張照片土豆才開始跟我說話的嗎?可是為什麼我和雷恩娜交往前他都沒有找我?可是如果阿姨說的是對的,為什麼土豆沒有和他的姐姐說話呢?
  「不管原因是什麼啦,詹姆斯,」雷恩娜的阿姨突然說,彷佛可以讀我的心思。「你和土豆的友情的確很特別。」她微笑。
  我回笑。我雖然不可能知道為什麼土豆開始跟我說話,可是我可以很肯定地說他把我看成很好的朋友,而那才是最重要的。這一種問題我可以直接放棄。
門鈴響了,讓我們三個都嚇一跳。「我以為喪禮的人中午才會來。」雷恩娜的阿姨指出。我看一看時鐘,那時才早上十點。
雷恩娜站起來去開門。新的客人的聲音聽起來無比熟悉,直到雷恩娜把客人請進客廳時我才嚇一跳。「你們真的來了?」
  保羅、亞伯特、和大智站在客廳門口,穿著樸素的黑西裝,各拿著一朵白玫瑰。他們把手裡的花插進花瓶後一塊坐在我身邊。
  「我跟他們講喪禮的事因為他們也和土豆生前相處蠻久的。」雷恩娜和阿姨解釋,「可是我不確定他們會不會來。」
  「當然回來呀。」亞伯特說話有點太大聲。「我們只是不確定該什麼時候來。」
  「那是我的錯。」雷恩娜承認。「我已經肯定你們不會來,根本沒想到要告訴你們時間。」
  「我知道我們一開始不是對他最好的人,」大智說,「可是跟他相處一段時間認識他一點,發現他是個很好很好的人。」
亞伯特突然呆呆地瞪著雷恩娜。「我還是看不出來妳們是雙胞胎吔。」
我大笑,想起前幾天我的伙伴們衝到我這裡來告訴我「大消息」。雷恩娜一一打電話給他們跟他們說喪禮的事,可是免不了要跟他們解釋她和土豆間的關係。他們的臉驚嚇到歪七扭八的,我還擔心他們會拉到哪個肌肉。
  男孩們冷靜一點時,雷恩娜的阿姨對他們說,「我們正在分享和土豆的回憶。你們也來講一下吧。」
  亞伯特馬上脫出口,「我對他超壞的。我嘲笑他又叫他演僵屍又叫他穿火雞裝。」
  當雷恩娜的阿姨翻過去給她的侄女一個「這到底是怎樣啊」的臉,我趕緊說,「我有問過土豆為什麼他知道我們會欺負他卻還是答應見我們。」
  大智彈彈下巴。「他怎麼說?」
  「他說他很高興你們把他包涵在計劃裡面。」我說,「他很喜歡你們辦的那些小節目,也很高興能夠參與。」
  三個男孩若有所思地看著地毯。
  一陣子後,保羅啜泣安靜地說,「他對我笑。」
  我對自己點點頭,想起感恩節那天土豆對保羅笑因為保羅說他開始喜歡那個男孩。雷恩娜說得對,雖然土豆不和爸爸跟我以外的人說話,他從沒有討厭任何人,也能夠和瞭解他的人交朋友。
  我們六個人又討論著土豆幾個小時,直到阿姨準備一頓簡單的午餐給我們。禮儀師到達後,我們被載到火葬場,而土豆的遺體就被火化了。
  一切事情都像陽光灑進開著的窗一樣。那一天不特別悲傷,晴朗的天氣也讓氣氛開朗許多。我們聊著和土豆愉快的回憶,然後就說再見了。他進了火爐裡,幾個小時後以一個綠色的小骨灰罈的樣子回家。雷恩娜把罈子放在有照片的玻璃櫃子裡,擺在我之前沒注意到的另外兩個罈子旁。另外兩個應該是土豆父母親的骨灰罈。
第二天,好像什麼事都沒發生一樣。土豆彷彿已經是一個老舊的回憶,安穩地收藏在我的內心。生命持續進行著:我的朋友們會把我的課後時間排滿,教授們不是刁難我就是害我打瞌睡,我也還是能用我的招牌微笑吸引人。
土豆喪禮後一個禮拜,我和雷恩娜又開始交往了。我所有的問題那一天在醫院時都被回答,我也比想像的還能夠認識她這個人。她也開始比以前更對我開放。雖然她仍然有種單打獨鬥的氣質,她現在能夠跟我講心裡的想法,而我也能夠對她更為誠實。她承認自己還是在和嫉妒心掙扎,而我向她保證就算大家都把她看成邪惡,我還是不會放棄她。
  我偶爾還是會上屋頂,有時候和雷恩娜或是我的伙伴們,有時候自己一個人。對我而言那是一個很特別的地方,甚至神聖。當太陽照射、樹木隨著風起舞,我幾乎可以肯定土豆還站在那裡,揮舞著瘦長的四肢,對著世界述說著所有事物。
  他的故事沒有快樂的結局,但是也不會太悲傷。我想他的故事介於中間,也可能什麼都不是。可是我知道他的故事很有意義,我也想和會聽的人分享。
  我猜土豆和我分享他爸爸的故事時應該也是這樣想的吧。

 1 2 3 4 5 6 7 8 9 10 11 12 13 14 15 16 17 18 19 20
-羅寗 Michelle Ning Lo