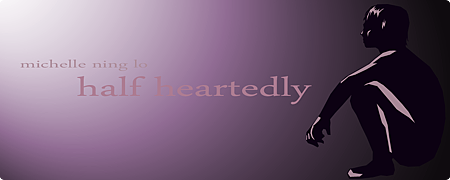 Chapter 18
I woke up to the gentle glow of the sunlight coming through the window curtains. Leona and I had both stayed the night at the hospital. I was lying on one of the benches next to Tutto's bed. Leona was still sitting beside Tutto's sleeping figure, her head tucked in her arms, her hand still holding onto Tutto's. Tutto hadn't moved from the position he was in the night before. His head was slightly tilted towards where his sister was sleeping; his hands limp at his sides; the rest of him hidden underneath the blankets, with his chest moving up and down along with the rhythm of the pumping of the ventilator.
I quietly got up and stretched, being careful not to disturb the others. After brushing up in the washroom, I went out the building for a walk. I learned a lot of information last night, and I needed some time alone to digest it all.
I looked at my watch. It was eight-thirty. My first class would be starting in an hour, yet I had no intention of going. My buddies would definitely notice my absence and start worrying though. I'll give them a call later, I mentally noted to myself.
It was a chilly morning, even though the sun was blazing like a huge bonfire. I turned up my jacket collar to keep my neck warm. The hospital garden was deserted except for a few nurses pushing patients in wheelchairs, taking them out for a morning stroll. It was November, so most of the birds had already migrated south; the trees were bare of leaves, their naked branches stretching to the sky as if trying to extract as much warmth from the sun as possible; there were very little flowers in sight, most of them small and withered, losing the battle of beauty against the harsh Canadian winter.
I followed the little stone path that cut across the garden to a little fountain. A squirrel scurried across in front of me, stopping for a few seconds to see if I had food for it. Above my head, a crow cawed loudly as it soared towards the hospital building behind me.
I kept walking; hands in my pockets, head hung low, eyes on the ground. I thought about everything Leona had told me yesterday, about Tutto's disease, his childhood, the death of his mother, the death of his father, and how he and Leona are twins. I thought of how much the both of them had already gone through within only eighteen years.
The more I thought, the more I stood amazed at how easily life can be changed. If Tutto's heart had developed like a healthy boy, he and Leona would have grown up in a happy family as beautiful children. He would have grown up to be a brighter kid, and would be able to keep up with his peers. With his cheerful and positive personality, he would have become one of the most popular people in school. He wouldn't have locked himself in his own world. Everyone would have been able to hear the amazing stories he had told only to me.
As for Leona, she would have turned out to be such a different person. Without Tutto's heart defect, she would have nothing to be jealous about, for they would be treated in a similar way, just like how people treat other twins. She would have become a more cheerful girl, and with her beauty, would also have become very popular amongst her peers. She would have been able to trust people more, and understand that people are kind, and that she cannot survive in this world as a lone she-wolf. She would have learned to work with people more, rather than do everything herself. Her talents would have been seen by everyone.
But because there was a defect in Tutto's heart, the twins' family fell apart. I shuddered at the realization of how one small thing could lead to almost disastrous consequences.
Perhaps Tutto had had it easy in the mental sense. Although he had to live with a ticking bomb in his chest, his simplicity prevented him from understanding that his life was constantly threatened, as well as the pain and suffering the people around him had been going through. The fact that he was slow actually allowed him to lead a happier, more carefree life.
Leona, on the other hand, was not as lucky. She understood everything that was going on in her family. She is a clever person, and even at a young age she knew that her brother has a condition that puts his life on the line. Even as an infant, only a few minutes into the world, she knew that her brother was different, and was taking the love away from her.
I recalled my impression of Leona before I started dating her. Her pride, her stubbornness, her isolating herself from everyone else. It all made sense how she turned out to be that way. Because of Tutto's health, he often got more attention from their parents as well as other people. Leona had to grow up mostly on her own, always observing the care that Tutto was receiving and contrasting it to the lack of attention that she was getting. She learned to do everything on her own, because no one else was going to help her. She eventually lost faith in other people, resorting only to herself.
But no one could live like this and not feel resentment. Her jealousy was seeded the day she was born, and it was watered every time her parents looked at Tutto and not at her. It grew into a strong tree that could not be cut down easily. She had finally managed to overcome it when she discovered her mother's dead body. The trauma had sawed the tree of jealousy in half, and shame had buried what's left of it out of sight. It was then that she learned to notice the kindness people were still giving to her. She opened up to her aunt, and learned how to rely on someone else. When her father died, she learned to trust me, someone who's not family. She started learning how to make friends.
But the honesty between Tutto and I had revived the tree inside her. Out of its stump sprouted a new branch of jealousy, the jealousy she felt after she realized someone she had started to trust was not being wholly truthful to her. It had newly sprouted, but it grew fast, like a horrible cancer. Although she knew her neglect of her of brother would cause him his life, she couldn't feel guilt for her jealousy was too strong.
Yet once again, the horror of death stumped the tree and brought her back to her senses, but once again it was too late.
I let out a long breath and watched as the steam from my breath floated up and disappeared. Tutto was dying. Just like the steam from my breath he had appeared in my life, and now he was floating in the air, about to vanish.
I neared the small fountain in the middle of the hospital garden. The water had dried, and the marble statue of a child stared blankly at my direction. Judging by how long the statue has been there, the child probably has seen many people like me, wandering aimlessly in the garden, too much on their heads, too little words to express the sadness and regret they feel. If the statue could talk, it would probably tell me to just let go, for life is so unpredictable it makes no sense to get hung up on it.
But how could I just let go of Tutto? Our friendship was very brief, but it meant a lot to me. The stories that he told me taught me things about life, friendship, and faith; he showed me that even though life can be tough, a laugh always makes things better. Most importantly, he was still the orange-eyed saviour from my childhood.
How could he be dying? I still couldn't quite grasp the fact that my friend, someone who was the same age as me, someone who was still eighteen and hadn't even had a chance to fully grow up yet, was lying on his deathbed, relying on machines to support him during the last handful of hours left of his life.
I kicked the side of the fountain, a small flame of anger had lit up in my chest, but just as quickly as it appeared, it died. There was no one, nothing to be mad at but…fate? God? Life? I sighed at how useless one could feel in front of the face of death.
I slowly headed back to the hospital building. Leona should be awake by now. Hopefully Tutto would wake up sometime too.
I was a little lightheaded from all the thinking so much. The swarm of questions that tormented my head last night had mostly been answered. However, there was still one question that clung to my brain, and I didn't think anyone could answer it but Tutto himself. Why did he open up to me? He wouldn't even talk to his own mother or his twin sister. Why me?
This thought occupied my mind all the way back to the hospital room. I gently opened the door to Tutto's room, and was met with a couple somber-faced doctors and nurses. Leona was still sitting by Tutto's bedside, her back to me, her hand holding his to her face. The room seemed very quiet, much quieter than before. I walked towards Tutto's bed, highly self-conscious that my footsteps might be too loud.
Halfway through the room, I realized the silence was due to the fact that all the machines had been turned off.
I sprinted over to where Leona was sitting. She had pressed Tutto's hand against her lips, gently kissing it. Tears ran down her cheeks uncontrollably, and she just let them flow. She turned to face me as I stood beside her.
"He never woke up." She told me, her voice cracked. "He went peacefully."
I leaned over and touched Tutto's cheek. It was still a little warm. "Bye, buddy." I said softly, before resting my forehead on his bony shoulder.
I had never cried so hard in my life.

 1 2 3 4 5 6 7 8 9 10 11 12 13 14 15 16 17 18 19 20 

第十八章
  從窗簾照進來的微弱陽光讓我醒來。雷恩娜和我前一晚就待在醫院。我睡在土豆床邊的一個長椅上,雷恩娜則仍然坐在土豆身旁,頭靠在手臂裡,手還握著土豆的手。土豆從前一晚都沒有動過身,他的頭微微地歪向姐姐睡著的位置,他的四肢癱軟在身旁,其餘的部分則藏在毯子底下,胸口隨著呼吸器的抽動而上下起伏。
  我靜靜地站了起來伸展,小心不吵到另外兩個人。在廁所裡洗個臉後,我到外面散散步。我前一夜學到了好多,需要一些時間自己吸收。
  我看看手錶。那時八點半。我的第一堂課在一個小時就開始了,我可是我一點都不想去。我的伙伴們可能會注意到我的缺席而擔心。晚一點給他們打個電話。我在心裡提醒自己。
  那是個冷颼颼的早晨,即使太陽在天上像個巨大的營火。我翻起夾克領子保暖。醫院花園除了一些護士推著輪椅裡的病人散步人外空盪盪的。已經十一月了,所以鳥兒們也都南飛了。樹葉都掉光了,裸露的樹枝向著天空伸展像是在乞求太陽的溫暖。眼前的花非常稀少,也都枯萎了,無法承受加拿大冬天的摧殘。
  我跟著一條小石頭路穿過花園到了一個小噴泉。一隻松鼠從我前方竄過,停了一下看我有沒食物給牠。在我頭上,一隻烏鴉大聲的叫著往後方的醫院大樓飛去。
  我繼續走著,手在口袋裡,頭低著,眼睛看著地上。我想著昨晚雷恩娜和我說的一切:土豆的疾病、他爸爸的死、還有他和雷恩娜的雙胞胎關係。我想著他們兩個才短短十八年的生命就已經經歷了這麼多。
  我越想就越感嘆生命如此容易被改變。如果土豆像正常的男孩一樣發育,他和雷恩娜可能還生活在一個快樂的家庭。他可能會長成一個聰明的小孩,也能夠跟得上同學們的進度。他開朗樂觀的個性可以讓他受到歡迎,他也就不會把自己封閉起來。大家也就都可以聽到他只和我說的那些奇妙故事。
  至於雷恩娜,她可能會變成完全不一樣的人。沒有土豆的病,她就沒有什麼需要嫉妒的,因為雙胞胎會受到同樣的待遇,就像其他的雙胞胎一樣。她會變成一個開朗的女孩,而且美妙的她會變得非常受歡迎。她可以變得比較信任人並且了解人是可以善良的,而她無法在這世上一直孤孤單單地活。她會學會如何和人合作,而不是一直自己做自己的事。她的才華可以被大家見識。
  但是因為土豆心臟的發育不全,雙胞胎分裂了。我顫抖,一個小小的事可以釀成災難性的後果。
  可能心靈上土豆比較幸運。雖然他胸中有一顆不定時炸彈,但是他頭腦簡單讓他無法了解他的生命持續受到威脅,也無法體會到他周圍的人的痛苦。因為他的簡單,他活得比較快樂。雷恩娜則沒那麼好過。她了解了所有事。她是個聰明的人,即便年紀小仍然知道她弟弟的狀況威脅到生命。就連她是才剛出生沒多久的嬰兒也能感受到弟弟的不一樣把注意力都搶走了。
  我記得我開始和雷恩娜交往前對她的印象。她的驕傲、固執、和孤僻現在我都能夠理解了。因為土豆的健康問題,他常常得到父母和其他人較多的注意力。雷恩娜幾乎獨立長大,看著土豆得到的關懷和自己的孤獨相比。她學會了獨立做事,因為不會有人去幫助她。她最後對別人失去信心,什麼都靠自己。
  但是沒有人能過這種生活而不感到氣憤。她的嫉妒種子在嬰兒時期就被栽種,而每一次父母看著土豆而沒看她時,這顆種子就不斷發芽,長成強壯不倒的一棵大樹。她看見母親的屍體時終於有辦法抑制住嫉妒。那一次的驚嚇把樹砍成一半,而罪惡感埋沒了剩餘的殘幹。那時她才發現到人們仍然對她善良。她開始親近她的阿姨,也學會依賴另一個人。她父親死了時,她學會信任不是家人的我。她開始學會如何交朋友。
然而我跟土豆間的誠實讓她心裡的那棵樹復活了。殘幹上長出了新的嫉妒的樹枝,那是她發現信任過的人沒有完全對她真誠的嫉妒。那樹枝才剛發芽就快速生長,像是可怕的癌細胞。即使她知道如果不理會他弟弟會害死他,但是她無法感受到罪惡感,因為嫉妒心太強烈了。
然而又一次死亡的可怕將樹砍倒,讓她回過神,但是又一次來不及了。
  我長嘆著看著自己呼吸的霧氣飄向天空消失。土豆快死了。就像霧氣一樣,他出現在我的生命中,但現在他飄在空氣中,即將消失。
  我靠近醫院花園中央的小噴泉。水已經乾掉了,而大理石的小孩雕像呆呆地看著我。那雕像在那裡那麼久了,應該已經看過許多像我的人,在花園裡無目的地流蕩著,腦袋裡的事情太多了,文字能夠形容的悲傷和悔恨根本不夠。假如雕像能說話,它應該會告訴我就放掉吧,生命太無常了,一直堅持著沒有意義呀。
  但是我怎麼能就放掉土豆呢?我們的友情雖然短暫,但是對我很重要。他跟我說的有關生命、友情、和信心的故事讓我瞭解到生命是可以很堅強的,而笑可以讓任何事都改善。最重要的是,他還是我童年裡的橘眼恩人。
  他怎麼會快死了呢?我還是無法完全理解我的朋友,一個和我一樣年紀的人,一個只有十八歲還沒有機會完全長大的男孩,現在卻躺在病床上,依賴著機器支撐著他最後沒多久的生命。
我踢了一下噴泉,一股怒火突然燃起,卻又驀地熄滅。我不能對誰和對什麼生氣,除了…命運嗎?上帝嗎?生命?我嘆氣,人在死亡面前真是無用。
我慢慢走回醫院大樓。雷恩娜應該已經醒了,也希望土豆什麼時候能再一次醒過來。
我的頭因為想太多而有點暈眩。昨夜的謎團已經大多被解開了,但是就是有一個問題還殘留在腦袋裡,而這個問題可能只有土豆本人能夠回答。他為什麼對我開放?他連對自己的媽媽和雙胞胎姐姐都不說話,為什麼對我?
  這個問題佔著我的大腦一路到了病房。我輕輕的推開房門,看見幾位臉色哀傷的醫生和護士。雷恩娜還是在土豆身旁背對著我,將土豆的手舉到自己臉前。房間非常安靜,比之前還安靜。我走向土豆的床,自己的腳步聲顯得非常吵鬧。
  走進房間一半,我發現安靜是因為機器都被關掉了。
  我跑到雷恩娜的身邊。她親著土豆的手,淚水不斷落下。她轉過來看我。
  「他一直沒有醒來。」她和我說,哽咽著。「他走得很安詳。」
  我彎下去摸了土豆的臉。還有餘溫。「再見了,朋友。」我輕聲說,將頭靠在他乾瘦的肩上。
  我從來沒有哭得這麼淒厲。

 1 2 3 4 5 6 7 8 9 10 11 12 13 14 15 16 17 18 19 20 

-羅寗 Michelle Ning Lo