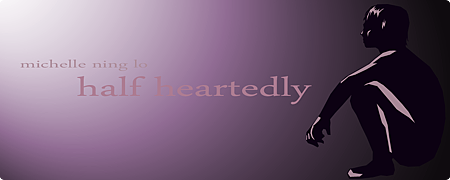 Chapter 12
After that day on the roof, Tutto was never the same.
The most obvious change was that he didn't stare at people anymore. When Patricia Gullan, a smart girl who excelled everyone in Physics, was twirling her fingers in class, solving problems that involved the right-hand rule, Tutto's head was down, staring at his own hands as if they weren't his; in Drama and Literature, when Ms. Wise was grouping her students together to prepare a presentation of a part of Oedipus Tyrannos, Tutto hid himself from the instructor's view, eventually walking out of class when all the other classmates were busy discussing about their performances.
One gloomy winter Friday, when everyone was done for the week and all went back home, I climbed up to the roof of the school building when I was sure no one was around. I didn't want to have to spread out dishonest excuses in front of Tutto anymore. The iron doors felt especially heavy that day, and I quickly found out why after I finally pushed them open. Tutto had stacked a pile of incredibly huge stones in front of the doors, and I had no idea how the skinny boy managed to carry these stones up to the roof in the first place.
Tutto Freeman was standing to the left of the doors, leaning against the low brick wall and looking out to the beyond. He didn't even blink when I called his name, and neither did he respond when I walked up beside him.
I stood there in front of the brick walls, gazing out to the direction where I thought Tutto was staring at, though I was pretty sure I could never see what he was seeing. His face was expressionless, and his eyes dull, as if he hadn't blinked for so long the colour of his eyes were fading. If his chest wasn't rising and falling with the slow pattern of his breathing, I would have sworn that he was a standing corpse.
After staring out at the setting sun for some time, until I felt dazed by the bright red light of dusk, I turned to face Tutto.
"Tutto." I started, but then I hesitated. He wasn't going to answer me, I knew that. But was his soul attached to his body and the real world enough to even listen to me?
I licked my upper lip, suddenly thirsty. "I'm sorry." I stared at him, studying him, seeing if he had heard what I said. We were standing less than a foot apart, and the school was so empty there was only the sound of the chilly winter wind. It wasn't possible for him to not hear me, unless he had gone deaf.
Nevertheless, the tall boy didn't move a muscle. The wind blew his light amber hair over his eyes, but he didn't care. Apparently he wasn't looking at anything physical. He was staring at an inner image, as if he were dreaming with his eyes open.
When the last golden ray disappeared behind the tall buildings far away, I cleared my throat and tried again.
"I know you're angry at me."
Silence.
"I know I was acting like a jerk."
Silence.
"I know everything I did was wrong. But I don't know one thing." I ran a hand through my short, dark hair. I wasn't used to awkward situations like this.
"I don't know what I can do to make things right."
I stopped, and studied the boy once more. His expression hadn't changed, but his eyes were closed now. The moon was shining down from right above our heads, and under the milky moonlight, Tutto's pale complexion seemed to glow silver. I felt as if I were watching someone transform into a ghost. I wondered if wandering souls were actually detached human beings who had trailed so far away from the real world they simply drifted off, falling apart into specks of molecular particles and travelling between our world and the world of their own fantasies.
I sighed and leaned my back to the brick wall, looking at my large runners. "I don't know how I can be friends with you, and also maintain my friendship with the others." This was something so honest I wondered if I had imagined saying it. I glanced at the boy beside me, who still hadn't twitched a hair.
I took a deep breath, as a bungee jumper would when looking at the valley below, and continued. "I don't want my friends to think different of me. They think I'm the popular guy, who would never sneak up to this roof and secretly make friends with…" My voice trailed off when I realized I didn't know what how to refer to Tutto. Should I call him "Zombie-Boy?" Or should I say "people that are less popular?" Anything I said would have insulted him. Maybe being honest isn't always the best policy.
"Anyway, they would start to think I'm weird. And I'm scared of that. I'm scared of being excluded again." I bit my lower lip. I was talking way more than I expected, and I didn't know what my conclusion would be.
"But of course you're already thinking I'm weird, right?" I laughed slightly, but when Tutto didn't join in, I stopped abruptly. An extremely uncomfortable silence fell upon us. I was now counting the amount of dirt patches that stained my shoes. Tutto was still standing beside me motionlessly, his eyes closed and his mind already wandering around who-knows-where. The chilly wind was gaining strength, and each blow was like a flying snowball, hitting me in the face and leaving painful red specks that would eventually turn into rashes. Somewhere up in the night sky, an invisible crow cawed aggressively, its cry so angry it seemed to fill up the entire atmosphere above.
I turned over and leaned against the brick wall, as Tutto was doing. I had just discovered that there were seventeen dirt patches on my left shoe, and fifteen on my right. The uneasiness between Tutto Freeman and I was so intense it felt strong enough to crack the wall we were leaning on.
"Are you really gonna go on and not talk to anyone at all?" I was facing him, looking sternly at him. His silence was starting to irritate me.
Tutto's breathing was light and slow, as if he were sleeping. With his eyes closed and his face so emotionless, I wouldn't doubt if he really were. But I knew he was still there, shut up inside the tall pile of flesh and bones, unwilling to move or respond to anything. He was listening to me talking. He would let me say whatever I had to say, but he would never open his mouth and say something back again. He wouldn't be singing and dancing and telling me the stories his father had told him anymore. He had protected me as his angel. He had put his faith in me as a friend. But he was hurt by me as well. He was hurt so badly that he decided to completely lock himself up in his own world. He decided that the world outside was too dangerous and unpredictable, and that it was never a good idea to expose himself to me.
He had trusted me, but I had let him down. And now he had learned not to trust anyone anymore.
"I'm horrible." I admitted loudly, so that even the stars up above winked at each other, gossiping. "I'm a horrible person who you never should have trusted. Why did you choose to trust me in the first place? I'm nobody to you. If you're such a psychic, why couldn't you have sensed that I was someone whose personality consists of nothing but lies? Why couldn't you have detected my left eye twitching every time I'm forcing out that stupid smile, or trying my best to talk in my so-called buddies' language, or even when I'm dating with Leona? I've never been an honest person, and I know you should be able to know that. In fact, I believe I'm the most dishonest person in the whole universe! I can't even be true to my own parents. I pretend that I'm their perfect son that they can be so proud of. I pretend to be my sister's loving big brother, even when it annoys me whenever she comes looking for help with some stupid eight-year-old crap. I pretend that I'm the popular guy who's always happy to be around people, when all I want is to be left alone. I even pretend that I'm in love with my girlfriend, when I don't even want to be stuck with someone like her for the rest of my life."
Tutto's eyes suddenly shot wide open. He turned his head to face me, frowning at me as if telling me to shut up. I didn't care.
"Yeah. I don't love Leona. I don't think I really even like her at all. I don't know why I started dating her in the first place."
Tutto's lips stretched into a thin line as his eyebrows frowned even more. He seemed to really care about my insulting Leona.
"But why the heck am I telling you all this?" I threw him a frown of my own, showing him that I didn't give a damn what he thought about what I was saying. "You wouldn't even believe me because I'm so dishonest I might not even be telling the truth right now. Maybe everything I had just said was all a huge heap of goddamn lies."
I turned and walked away without even looking at Tutto Freeman. He wouldn't accept my apology, so I didn't want to care anymore. So what if our friendship was over? That would make it easier for me to be with my buddies.
It also helped me make a decision about something that had been haunting my head the whole day.

 1 2 3 4 5 6 7 8 9 10 11 12 13 14 15 16 17 18 19 20 

第十二章
  屋頂上那一天後,土豆完全變了樣。
  最明顯的改變是他不再一直盯著人看了。當派翠莎‧勾稜-一個物理超強的聰明女生-捲曲著手指計算有關右手原則的題目時,土豆頭低低地看著自己的手好像不是自己身體的一部分一樣。在戲劇和文學課上,當外斯教授叫同學們準備一小段《伊底帕斯國王》的演出,土豆躲著教授的眼光,最後在同學們正討論著演出時偷偷溜了出去。
  一個陰陰的禮拜五,當大家上完課回家了,我確定大家都不在時,我爬上系樓的樓梯到屋頂上。我不想再繼續在土豆面前說謊了。那天,鐵門感覺特別地重,我終於推開後才只道為什麼。土豆在門後疊了一大堆大石頭。那瘦瘦的男生怎麼把那些石頭搬上去的我完全不瞭解。
  土豆‧福利曼站在門的左方,靠著矮磚牆望著遠處。當我叫他的名字時他連眨眼都沒有,我走到他身邊時也完全沒有反應。
  我站在磚牆前面往土豆望著的方向看,即使心裡知道我永遠沒辦法看見他眼中的事物。他面無表情,眼睛暗沈,好像他已經沒眨眼很久了,眼睛的顏色都褪掉了。如果他的身體沒有隨著呼吸而起伏,我還會以為他是個站著的屍體。
  看著落日一段時間直到紅紅的天空讓我暈眩,我轉身面向土豆。
  「土豆。」我開始說,但是又猶豫了。我知道他不會回答我,可是他的靈魂還在他的身體和現實裡讓他聽得見我說的話嗎?
  我添了一下上嘴唇,突然覺得很渴。「對不起。」我看著他,觀察著他,看他到底有沒有聽見我。我們距離不到半公尺,而且學校空蕩到連冷風吹拂的聲音都聽得到。他不可能沒聽到我,除非他聾了。
  然而,那高高的男孩不動一塊肌肉。風把他的頭髮吹到眼睛裡,可是他也不管。他很明顯不是在看具體的東西,而是在看他內心的物體,彷彿正眼睛張著在做夢。
  當最後一絲陽光在遠方的大樓後消失,我清清喉嚨再試一次。
  「我知道你在生我的氣。」
  安靜。
  「我知道我很機車。」
  安靜。
  「我知道我都做錯了。可是我不知道一件事。」我將一支手梳過我的短黑髮,不習慣這種尷尬的場面。
  「我不知道怎麼做才對。」
  我停下,繼續觀察著男孩。他的表情沒有變,但是他的眼睛閉上了。月亮從我們的頭上照耀。月光下的土豆蒼白的皮膚好像發著銀光。我好像看著他變化成鬼。我深思著流浪的魂體是不是和世界已經沒有關聯的活人的靈魂,孤獨到直接飄離了現實,碎成一顆一顆的細胞在我們的世界和他們自己的幻想間徘徊著。
  我嘆著氣靠在身後的磚牆,呆呆地看著自己的大球鞋。「我不知道如何又跟你是朋友,又保持我和其他人之間的友誼。」這句話誠實到連我自己都懷疑自己是不是真的說了出口。我往身旁的男孩看,但他仍然沒有動一根毛。
  我吸了一口氣,像是高空彈跳者看著腳下的深谷一樣,繼續道,「我不想要我的朋友對我有反感。他們覺得我很受歡迎,不可能偷偷跑到屋頂上來找…」我說不下去了,因為不知道怎麼稱呼土豆。我該叫他「殭屍男」嗎?還是「不受歡迎的人」?我說什麼都會傷害到他。原來誠實不是永遠都最好。
  「反正就是他們會開始覺得我很奇怪。我很怕那樣。我怕又被排斥。」我咬咬下嘴唇。我已經講了比預期還多的話了,也不知道自己的結論是什麼。
  「但是你早就已經把我當怪胎了吧?」我輕輕笑了一下,但當土豆沒有跟著笑時我驀地停住。我們陷入極度不舒服的沈默。我這時已經開始數自己鞋子上的髒塊。土豆依舊不動地站在我身旁,眼睛閉著,腦袋不知飄盪在何處。冷風漸漸變強,每一次吹拂都像是一顆雪球打在我的臉上,留下疼痛紅腫的凍傷。黑夜中的某一處,一隻烏鴉猙獰地叫著,憤怒的叫聲幾乎充斥了整個夜空。
  我轉過身向前靠在磚牆上,像土豆那樣。我剛剛數完左腳上的十七個髒塊和右腳上的十五個。土豆和我之間的尷尬已經強大到感覺可以把我們倚靠著的牆撞碎。
  「你真的要一直這樣不和任何人說話嗎?」我面對著他,嚴肅地看著他。他的沈默已經開始激怒我了。
  土豆的呼吸輕而慢,像是已經睡著了。他眼睛閉著有又面無表情,我也不會懷疑他真的睡著。但是我知道他還醒著,將自己關在高高的骨肉堆裡,不對任何事物反應。他聽著我說話,他放任我隨便說,但是他不會再張口回答我了。他不會再唱著歌跳著舞跟我講他爸爸的故事了。他把我當成小天使守護,把我當成朋友信任,但是他也被我傷害。他被我傷害到完全將自己鎖了起來。他已經決定世界對他而言太危險又無法預料,所以他不再對我開放了。
  他信任了我,我卻令他失望。他現在學會不再信任任何人了。
  「我好可惡。」我大聲承認,讓星星在頭上互相八卦。「我是個可惡根本不值得你信任的人。你怎麼會選我來信任呢?我又不是你的誰。如果你那麼有靈性,怎麼會感覺不到我的個性什麼都不是就只有謊言?你怎麼會沒有發現我每次逼出那白痴的笑時左眼都會跳動?我在用我那些伙伴們的肢體語言說話時也是,跟雷恩娜的時候也是。我一直都沒辦法誠實,我也知道你應該最知道這一點。我是世界上最不誠實的人了!我連對自己的父母親都沒辦法誠實。我假裝自己是他們的完美兒子。我假裝自己是最疼我妹妹的哥哥。即使她用她那智障八歲垃圾來煩我也是。我假裝在別人身邊都可以一直很開心,即使心裡只想要自己獨處。我假裝我愛著自己的女朋友,即使我根本不想永遠和她那種人在一起。」
  土豆的眼睛彈開。他將頭轉向我,對我皺眉叫我閉嘴。我不管。
  「對。我不愛雷恩娜,根本不喜歡她。根本不知道一開始為什麼會跟她交往。」
  土豆的嘴唇拉長成一條細線,眉頭也更皺了。他好像非常在乎我侮辱雷恩娜的事。
  「我到底幹嘛跟你講這麼多啊?」我也對他皺眉,告訴他我完全不在乎他對我說的話有什麼感想。「你可能也不會相信我因為我不誠實到可能我現在也在說謊。可能我剛剛說的全部都是一個大謊。」
  我轉身走了,對土豆‧福利曼連看一眼都沒看。他不接受我的道歉,我也不想管那麼多了。就算我們的友情結束了又怎樣?那樣我也可以和我的伙伴們比較親近。
  那樣也幫助我做了苦惱著我一整天的決定。

 1 2 3 4 5 6 7 8 9 10 11 12 13 14 15 16 17 18 19 20 

-羅寗 Michelle Ning Lo