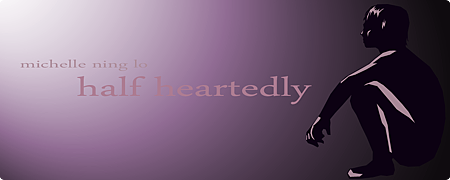 Chapter 10
"Jamey!" Paul greeted me as soon as he saw me walk into the locker room after classes. It was the day after Halloween. "How d'you like our story-telling last night?"
"Yeah, dude." Albert slapped me on the back with the force that could set a ship off to sea. "We didn't even see you at the after-show party. Did you leave early?"
I gave them my brightest smile, but slowly backed away. "Yeah. Samantha has an English project due today, and she needed my help." The statement was half-true. I had left for home as soon as the zombie story ended with Zombie-Boy making friends with a group of people dressed in their Halloween costumes. I had gotten home exhausted yet restless, and when Samantha had asked me if I could help her with her homework, I had been more than willing to. At least I had something to do to temporarily rid my throbbing head of guilt and frustration.
"We really knocked the air out of all those people!" Daichi said, high-fiving the other two boys. "They were laughing their guts out."
"That Zombie-Boy's gonna be a star." Albert said, grinning.
Daichi nodded. "You wouldn't believe how zombie-ish he was last night when we were helping him do his moves. He was like a dummie or something."
"Maybe he is dead. He was as stiff as a corpse."
"I wouldn't be surprised."
I silently crept away as the guys chatted excitedly about their successful Halloween performance. I turned a corner and, as if by nature, headed straight for the top of the building.
When I pushed open the heavy iron doors and stepped out into the bright November sun, the guy with the skinny body and two round, orange eyes was standing there, grinning at me as a toddler would grin at a new creature he had just caught.
"Jame-sy." I didn't know if hearing that sing-song voice really made me relieved or I was so tired even the maniac could cheer me up.
"Freeman, I have something to talk to you about." I grabbed his shoulders with both hands, preventing him from starting his pathetic dancing.
There were still some faint traces of red and blue on his pale face. I could see that he had tried to wash the colours off, but it would take some time for the paint to fade away completely. Even parts of his pale hands were stained with the colours. His light amber hair looked worse. Streaks of red, blue, and also purple could be seen hiding near the scalp.
"Tutto's listening." The boy cupped his hands behind both ears to assure me.
I sighed. At least he's himself again.
"Freeman. I want to thank you."
Freeman stared at me with his large orange eyes and frowned. "Jamesy's welcome." His tone was nothing but confused.
"Look. I don't know if you remember this, but, how many years? Twelve? Twelve years ago you…you saved me." I looked deep into the nothingness of Tutto Freeman's pupils. I searched for a flash of recognition, a sudden hint of realization that would dart across the pitch-blackness of the centers of his pupils like a shooting star. But I didn't see anything.
"You don't remember?" I asked desperately. Freeman raised an eyebrow and looked at me as I had always looked at him. Maybe I was going crazy.
"We were at the stream. I was…I was stabbing myself with the nail. You can't forget something like that, can you?" Still no response.
I gave up. Maybe I was just imagining things. Maybe the person who came to stop my self-affliction didn't have orange eyes. Maybe that person never really existed. Maybe I was spending too much time with Tutto Freeman I was going insane.
"Tutto's daddy said hurting yourself is as serious as hurting somebody else." Freeman was looking up at the grey sky. It was nearing the end of autumn, and the air felt dry and cold. "Tutto's daddy told Tutto that people who commit suicide think there is no hope left in the world. They can't see the future, and if they did, all they see is sadness and disaster. They can never notice the tiny leaves of a seed sprouting out from all the debris, green and full of life. They forget the fact that nightmares can be put to an end simply by waking up and facing reality. The real world isn't always as dark and hopeless as these people think it is. All they have to do is look. Look and they'll see the smile on the faces of people who they thought were suffering; look and they'll find that even in the gloomy darkness of the night, stars will always manage to give off their small but dazzling light. Look and they'll realize that it's so easy to just laugh and go on. Miserable things can happen, but life will always move forward—you just have to allow it."
I hung my head. At the age of six, when I was stabbing my own thigh with the nail, counting up to the number of fish and tadpoles I had killed, I thought I was releasing myself. I thought, by sinning, I could have an explanation for why I was excluded by my peers; by causing myself pain, I would have every right to curse the people that hated me. I thought, because I was suffering, I had the privilege to sin, and because I was sinning, I can let myself suffer.
But I was only hiding. I was hiding from the jealous glares and harsh insults of my classmates. I was hiding from the responsibility of meeting the expectations of not only my parents but all the other adults. I was hiding from having to pretend to be happy when all I could think of was sadness.
Now I can finally understand this: I was hiding from my real self.
I was always a sunny boy, even when I thought I was pretending. My parents and all the other grownups were always proud of me, even when I was exceeded by other children. I could always get along well with my peers, even when I thought I wasn't welcomed.
It was the person, with or without orange eyes, who may or may not have come and stopped me from stabbing myself, that made me realize I could really be happy without a disguise. It was the person who told me that it was me who was excluding myself from my classmates because I was scared they hated me. It was the person who showed me that my parents were proud of me not because they thought I was perfect, but simply because they loved me.
"You have a wise father, Freeman." I heard myself say.
"Tutto's daddy knows everything." Freeman was still gazing up at the sky, which was already darkening.
I could sense a pinch of sadness in his eyes.
"Can I ask you something?" I said carefully. When Freeman turned and faced me, I said slowly, "Did something happen to your father?"
Freeman gave me a bitter smile, the kind of smile I would see on the faces of widows or widowers, the heartbroken. It was a lonely smile.
"Tutto's daddy never told Tutto where he went." Freeman wasn't rushing. He was speaking slowly and steadily, as if he wanted me to hear every word. "All he told Tutto before he disappeared was that there was something missing, but he wouldn't need to go looking for it. He told Tutto that he should grow up now, that he should take care of himself now."
Freeman didn't sound sad. He didn't cry. His voice didn't crack. His smile was still there. But I could feel the grief literally. It was all in his words.
"Tutto's daddy held Tutto's hand and placed it on his chest, where his heart was. Tutto could feel the drummer's beat in his daddy's body. It was soft, like the feeling of ripples when you place your palm flat on the surface of the water. And then, it was gone. Tutto was about to look for it when he remembered his daddy's words, so he didn't look for it. And he promised his daddy he never will. Ever."
I thought of the time when we were in my family's living room, sitting in front of the wooden table with the world map carved onto it. Freeman had talked about World War Three happening in his or his father's chest. It was hard to determine who and what he was referring to, but now it all made sense.
"Freeman." I put a hand on Freeman's shoulder, firm, steady, like the hand of the person who had stopped me twelve years ago. "I think your father had a heart-attack."
Freeman stared at me with his wide orange eyes. The eyes had started to glimmer, like the starry night sky up above our heads. He was looking at me, but was looking past me, looking at something that was only visible to him.
"Heart. Attack." He had whispered the words to himself, slowly and carefully, as if learning the words for the very first time.

 1 2 3 4 5 6 7 8 9 10 11 12 13 14 15 16 17 18 19 20 

第十章
  「詹姆斯!」保羅看見我課後走進置物室就呼叫著我。這一天是萬聖節後第一天。「昨天晚上的故事怎樣啊?」
  「對呀,老兄。」亞伯特拍我的背的力量大到可以把大船送出海。「慶功宴都沒看到你,你先走了嗎?」
  我用我最開朗的微笑應付他們,可是身體慢慢地往後退。「對呀。珊曼莎今天要交英文作業所以我昨天在幫她。」這句話不完全是謊。前一天晚上,殭屍男和一群穿萬聖節服裝的人交朋友,殭屍故事結束後,我馬上就回家了。雖然疲累無比,我卻無法冷靜,所以當珊曼莎問我有沒有空教她寫作業時,我馬上就答應,至少有件事情可以讓我暫時不去想我的煩悶和罪惡感。
  「我們真的讓大家笑死了!」大智說著和其他男生們擊掌。「他們都笑到東倒西歪的。」
  「那個僵屍男會紅喔。」亞伯特開心地說。
  大智點頭贊同,「我們昨天幫他做動作的時候,他真的有夠僵屍的吔。他根本像假人一樣。」
  「說不定他是真的已經死了。他的身體硬得跟屍體一樣。」
  「如果真的這樣我也不會太驚訝。」
  當他們三個興奮地討論著前一晚的萬聖節演出,我悄悄地溜走了。轉了一個灣後,彷彿已經變成習慣似的,我直接跑向屋頂。
  我推開鐵門踏入十一月的艷陽下,瘦瘦有著橘色眼睛的男生對著我笑得像是小孩開心地看著自己抓到的小蟲一樣。
  「小-詹詹。」我不知道聽到那半唱半講的聲音是真的讓我放心了還是我已經累到連瘋子都可以讓我開心。
  「福利曼,我有件事要跟你說。」我兩手抓住他的肩膀以防他又開始跳舞。
  他蒼白的臉上還有一絲絲的紅藍顏料。我看得出他有努力想把顏色洗掉,可是要完全去除會要一段時間。連他蒼白的手上都看得到顏色。他琥珀色的頭髮更慘,在頭皮附近殘留著一條一條的紅藍還有紫。
  「土豆在聽。」男孩把手扣在耳朵後面向我保證。
  我嘆了一口氣。至少他恢復本性了。
  「福利曼,我要謝謝你。」
  福利曼用他的橘色大眼盯著我,皺著眉頭。「小詹詹不用客氣。」他的語氣完全困惑。
  「就是,我不知道你還記不記得,可是,多少年了呀?十二?十二年前你…你救了我。」我看著福利曼瞳孔的最深處,尋找著他突然意識到時會有的一道光閃過眼球中的黑暗像一顆流星。但是我什麼都看不到。
  「你不記得?」我心急地問。福利曼抬起一邊的眉毛向我平常看他那樣看著我。我好像真的已經瘋了。
  「我們在小溪那邊,我在…我在用鐵釘刺自己。你不會忘掉這種事吧?」還是沒有回應。
  我放棄了。可能我想像力太豐富了。可能阻止我自殘的那個人根本沒有橘色眼睛。可能他根本不存在。可能我跟土豆‧福利曼相處太久也變得腦殘了。
  「土豆的爸爸說傷害自己跟傷害別人一樣不好喔。」福利曼看著灰色的天空。秋末的空氣感覺乾燥又冷颼颼的。「土豆的爸爸跟土豆說自殺的人以為世界已經沒有希望了,他們看不到未來,就算看得到也只是悲傷和災害。他們不會注意到剛發芽的小葉子,又綠又充滿生命。他們忘記噩夢只要醒過來面對現實就可以解脫。世界沒有像他們想的那樣又黑暗又無救。他們只要看,就可以看見原本以為受著苦的人臉上是有笑容的,就可以發現即使在最黑的夜空中星星還是可以釋放微小但耀眼的光芒,也可以意識到一笑置之繼續生活其實沒有那麼難。痛苦是會有的,可是人生是會一直持續的,就只需要你的允許。」
  我低著頭。六歲的我用鐵釘刺自己的大腿數著我殘殺的魚和蝌蚪,我以為我在釋放自己,我以為這樣我就可以給自己一個理由放任同學排斥我。我以為如果我犯罪我就有權利詛咒恨惡我的人。我以為,因為我受苦,我可以犯罪,而因為我犯罪,我可以讓自己受苦。
但是我那時只是在逃避,逃避著同學們的嫉妒和苛責,逃避著不只對我父母親還有對別的家長的期待,逃避著傷痛中需要編造的快樂。
現在的我終於了解到了一點:我逃避著真正的自己。
我一直是陽光男孩,連覺得自己在裝的時候也是。我的父母親和其他家長一直都以我為傲,即使我被其他同學超越也是。我一直都和同學們相處得來,即使自己覺得被排斥了也是。
是那一個人,有或沒有橘色眼睛也好,有或沒有來阻止我自殘也好,是他讓我了解到快樂不一定需要面具,是他讓我意識到是我自己把自己從同學們中排除,因為我害怕他們會討厭我。是他讓我知道我的父母不是因為我完美而以我為傲,而只是因為他們很愛我。
「你的爸爸很明智,福利曼。」我聽見自己說。
「土豆的爸爸什麼都知道。」福利曼仍然忘著已經開始變黑天空。
我可以看見他眼中那一絲的傷感。
「可以問你一件事嗎?」我小心地說。當福利曼轉頭看我,我慢慢開口,「你爸爸有怎樣嗎?」
福利曼給我一個苦笑,那種寡婦寡夫,心碎的人的笑。是一種孤獨的笑。
「土豆的爸爸沒有跟土豆說他去哪裡了。」福利曼一點也不急。他說話緩慢而穩定,像是他要我聽見每一個字。「他消失之前和土豆說的只是有一個東西消失了,但是他不需要去找。他跟土豆說該長大了,該照顧自己了。」
福利曼不傷心,也沒有哭,聲音也沒有破,微笑也還在。但是我感覺得到他的哀痛,全都在他的話裡。
「土豆的爸爸把土豆的手放到他胸口,心臟那裡。土豆感覺得到他爸爸身體裡的鼓手。鼓手的震動很小,像是把手放在水面上時漣漪的感覺。然後,鼓手就不見了。土豆原本想去找它的,可是他記住了他爸爸的話,所以他沒去找。他和他爸爸保證他永遠不會去找的。永永遠遠。」
我想到我們那一天在我家客廳,坐在刻著世界地圖的木桌前。福利曼和我說第三次世界大戰正發生在他還是他爸爸的胸中,那時候很難聽出他講的是誰,可是現在一清二楚了。
「福利曼。」我把一支手放在福利曼的肩上,我的手穩定又強壯,像是十二年前阻止我的那支手。「你的爸爸好像是心臟病。」
福利曼用他的橘色大眼看著我,那雙眼開始一閃一閃的,像是我們頭上的星空。他看著我,但是眼睛穿透我,看著只有他才看得到的東西。
「心臟病。」他慢慢地、小心地把那三個字說給自己聽,彷彿是第一次學到的單字。

 1 2 3 4 5 6 7 8 9 10 11 12 13 14 15 16 17 18 19 20 

-羅寗 Michelle Ning Lo