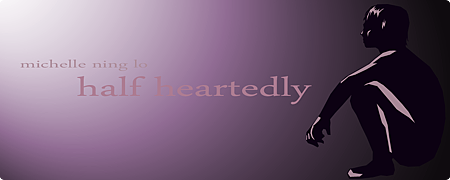 Chapter 9
The Monday after my day at the stream, I pushed back the heavy iron doors that led to the roof of our school building. After my eyes had adjusted to the blinding light of the autumn afternoon, a tall, skinny boy with light amber hair came into view.
"I've been looking for you." I said as I approached the guy. Freeman slowly turned around to face me. I had expected to see the goofy grin and glimmering orange eyes, but instead I was met with an unreadable expression and dull eyes.
Freeman looked at me emotionlessly, as if I were one of all the other people who he wouldn't respond to. His long amber hair fell in front of his face and shadowed his eyes, making them almost lifeless. He wasn't dancing and waving his long limbs about as a child would when trying to pop all the soap bubbles his mother had blown to the air; he wasn't babbling on nonstop as if he were still finding the ability to produce language fascinating.
I stared at his motionless figure, peered at his dim eyes that were gazing weakly back at me. A sudden wave of chilly fright went down my spine. "Freeman? Are you alright?"
"Jamey?"
I twirled around to see who had called my name. Behind me, standing at the iron doors, were my three best buddies, Albert, Paul, and Daichi.
"Hey! Didn't expect you to show up here, dude." Albert came over to pat me on the back, but I dodged away before he could break my bones.
"I didn't expect you guys to be here, either." I said, trying my best to hide the fear that was still clinging to the back of my neck. Do they know I've been hanging out with Freeman here?
"Look who we have with us today. Why not introduce yourself, buddy?" Paul swung an arm around Freeman's bony shoulders. The silent boy turned his head slowly to face his new "buddy," his expression as detached as a corpse.
After an awkward silence, Paul decided to do the speaking. "OK. Seems like you two have already met, but let me give you a formal introduction. Jamey, this is Tutto. Tutto, Jamey."
"Hi." My mouth automatically curled up into my signature smile, despite the uneasiness and helplessness that was boiling deep in my stomach. Should I tell my friends that I had already befriended "the Zombie?" Or should I temporarily forget about my friendship with Freeman and pretend I had never met him before? What would my pals think if I told them I knew more about Freeman than anyone else? How was I going to hide the fact that I had been meeting with Freeman quite a lot, yet still not offend him? I felt like a rafter caught on a rushing river, with the waterway forking into two in front of me. I had to choose a way to head to, and I had to make my decision fast because the water was carrying me forward with incredible speed. Yet I had no idea where the water in either direction led to. And what would happen if I didn't make up my mind in time?
"Don't worry, James." Daichi could sense my anxiety, yet he thought I was merely uneasy about meeting the creepy guy who always sat in the dark staring at people. "Tutto is actually a very fun person. Right, guys?" The three boys winked at each other, snickering like hyenas that had cornered a helpless prey.
I tried to laugh along, but only managed to let out a nervous chuckle. "What're you guys planning?" I asked, trying to sound as casual as I possibly could.
Albert slapped me on the back before I could dodge, and whispered into my ear excitedly, "Show starts at five-thirty. You might wanna find a good seat now." He pointed down the roof to the area thirty feet below, and that was when I realized there had already been a huge crowd assembled in the wide courtyard.
Pushing at my back with his strong hands, Albert ushered me through the iron doors and told me to enjoy the performance. Before the doors thumped shut, I caught a last glance of Freeman's large orange eyes, staring emotionlessly at me, as if he were still unaware of the misfortune that was about to happen to him.
I stood at the doorway for a while, frozen at the spot, not knowing what to do. At last I hurried down the stairs and joined the huge group of waiting students on the field, all of them chattering excitedly as if it were the opening night of a well-appreciated play.
"James." I heard a gentle call amongst the loud talking in the crowd. Leona had pushed her way through the jungle of college students and walked up beside me. She was wearing a short navy blue skirt under a black halter top, with the colors emphasizing her silky golden hair that was let draping freely around her shoulders. "James. Do you know what's happening?"
Looking up at the roof, where nobody had yet appeared, I sighed in frustration. "No. I have no idea."
Just then, a loud cheer erupted from the crowd as Tutto Freeman stepped into view. His face was the same as when I found him on the roof, dead and unreadable. An eerie orange light shone behind him, outlining his skinny figure. The sun had already set, and the sky was a dull black. Albert's voice came through the amplifier, deep and slow like that of a dark magician.
"Today is October the thirty-first."
All the people around me started to cheer and whistle. It was obvious they all knew what the event was for. I was shocked at how I had managed not to be aware that Halloween had approached. It wasn't after Albert announced the date that I noticed all the carved pumpkins sitting on the porches of the department building, grinning at me with their wide mouths and ragged teeth. Black paper bats hung across the window-frames, fluttering occasionally when the wind seeped through the slots of unclosed windows. As I peered at the people around me, I frowned at the fact that I didn't even realize they were all dressed up in their scariest costumes. Blood-sucking maidens and furry werewolves crept around the field as if looking for prey; slime-oozing mermaids and vampires with ginormous bloody teeth danced around me as if the place were hell.
I looked at Leona who was standing quietly beside me. She never celebrated any holiday, not even Christmas. She doesn't like to party, saying that she hated to be around noisy and drunken people. At first I found it difficult to hang out with her because she never does anything too exciting, but after dating her for some time, I began to understand her way of having fun, and I find that I actually prefer singing and dancing with the accompaniment of the piano and guitar to doing mindless things while blasting music that result in throbbing headaches the next morning.
Above our heads, Albert's amplified voice went on: "On this year's haunted holiday, we are honoured to have a special guest celebrate with us today. Let us welcome the star of the day: Tutto Freeman!"
A round of applause exploded out the group of costumed students. Some people held up signs that read "WE LOVE YOU, ZOMBIE-BOY!" Others simply shouted out the words at the top of their lungs. Everyone seemed to have waited for today's event for some time already. They had all been looking forward to seeing Freeman do whatever he was going to do up there on the roof—or they were waiting to witness what was going to be done to him.
Despite all the chaotic cheering and shouting that was directed toward him, Freeman stood there behind the brick wall of the roof, in front of the orange light that was illuminating him under the dark, Halloween sky. He hadn't moved a hair since his appearance, and it was impossible to tell what he was thinking because it was too dark to see his expression. The only feature I could make out of his face was a pair of large orange eyes, glimmering and reflecting the light of the same hue that outlined his bony figure.
"Let's leave, James." Leona pulled at my hand, signaling me to follow her. "I don't like the looks of this."
I held back. Even though I didn't want to see Freeman humiliated, it felt even worse to leave him with the merciless crowd, knowing that what would happen to him was nothing close to good. When I tugged my hand free from Leona's grasp, she looked up at me with angry eyes, accusing me of being like the rest of the people.
"It's not like that, Leona." I quickly said when she turned to leave.
"Then what is it?" Leona shot at me. "How can you bear to see that poor guy be humiliated in front of all these people?"
"I can't." I said, looking at my feet.
"Then why won't you leave?" Leona folded her arms and stood firm on her spot. "You ought to go and talk your pals out of this. They're wicked. I can't believe you didn't stop them in the first place."
I curled my hands into fists. "What are you blaming me for? I didn't even know about this until now!" But she was right. I should have stopped Albert and the others when I was still on the roof with them. I should have just told them straight that Freeman was my friend and I wouldn't let them do whatever they were about to do on him. Who cares if they started to ignore me again, like they did all those years ago? Who cares if I would have to start killing innocent creatures and hurting myself, like I had done for so long by that stream?
I would care. This was why I didn't tell anyone I was hanging out with Freeman. This was why I didn't have the guts to stop my "buddies" from hurting Freeman now, and at the time when they were playing the practical joke on him in the cafeteria. This was why I kept silent when Leona asked me if something was bothering me.
After a few attempts to make me speak and tell her what was wrong with me, Leona eventually gave me a cold glare and walked away, leaving me with all the troubled thoughts that were craving to escape my head but could find no exit.
High above me, Freeman stood in front of the orange light, at the mercy of Albert's improvised story of a zombie walking into the world of the living and being beaten up. Paul and Daichi were pushing him here and there as the story went on, trying to position him so that he conformed to the meaningless tale. Thirty feet below them, the audience in the courtyard was laughing hysterically, hooting and screaming along with what was happening "onstage."
"After the guys in the park left Zombie-Boy all bruised and bleeding on the ground, Zombie-Boy finally knew what it was like to be in the world of the living. He had discovered that it was no better than living amongst the dead. At least the dead wouldn't have the urge to kill Zombie-Boy, because they all knew that he was already dead."
As Daichi adjusted the orange light so that it illuminated Freeman's face, I caught sight of all the red and blue paint they had poured onto him to make him look bloody and bruised. Freeman's orange eyes glowed in the night, as bright as the hollow eyes of the jack-o-lanterns dotting the porches of the department building. Nevertheless, Zombie-Boy's gaze was as blank as the pitch black sky of a city night. It was deep, yet empty.
"Zombie-Boy slowly stood up, carefully as not to accidentally rip off a part of his already decaying body. He balanced his heavy head on his skinny neck and stomped off into the crowd that had gathered to watch him being punched in the face. Zombie-Boy wasn't angry, he couldn't have feelings, but the people around him hid from him when he approached them. He didn't know how to make friends with the living people, and he knew he would never be able to. So he just stomped straight on without thinking where he was going. He decided to just go forward and not look back; move on, and never return…"

 1 2 3 4 5 6 7 8 9 10 11 12 13 14 15 16 17 18 19 20 

第九章
小溪那天後的禮拜一,我推開系樓屋頂的沉重鐵門。在眼睛適應秋天下午的豔陽後,我看見一個高高瘦瘦、有著琥珀色頭髮的男生。
「我在找你。」我說著走向那個人。福利曼轉身面對我,但是應該有著傻笑和閃爍著的橘色眼睛的臉只剩空白的表情和暗沉的眼神。
福利曼沒有任何感情地看著我,把我當成是學校裡的其他人,只是一直看著我不作答。他的琥珀色頭髮掉到臉前將眼睛藏住,使眼睛顯得格外無神。他沒有到處揮舞著四肢像小孩將媽媽吹的泡泡弄破那樣;他沒有不停地講著話像他還對人類可以說話的能力感到驚喜那樣。
我注視著他一動不動的身子,凝視著他昏暗回看我的眼睛。一陣涼意湧上心頭。「福利曼?你還好嗎?」
「阿詹?」
我轉過身來看誰叫了我的名字。站在我身後大鐵門門口的是我三個好伙伴,亞伯特、保羅、和大智。
「吔?沒想到你也會在這裡吔,老兄。」亞伯特走了過來要拍我的背,但是我趕快閃開免得他把骨頭都打斷。
「我也沒想到你們會來這裡吔。」我說,努力隱藏著勒著我的脖子的恐懼感。他們知道我在這裡和福利曼的事嗎?
「看一下我們這裡還有誰。介紹一下自己吧,朋友。」保羅將一支手掛在福利曼消瘦的肩膀上。那安靜的男孩看一看自己的「新朋友」,表情像殭屍一樣不帶感情。
一陣子尷尬後,保羅決定幫他講話,「好,看起來你們好像已經認識了,可是我還是介紹一下好了。阿詹,這是土豆。土豆,阿詹。」
「你好。」即使心裡的不安和無助滾騰著,我的嘴巴自動捲成招牌微笑。我該告訴我的朋友們我已經跟「殭屍」很熟了,還是該暫時忘記和福利曼的友情,假裝我不認識他?我告訴朋友們我比誰都更認識福利曼,他們會怎樣想?我該如何隱瞞我常常跟福利曼相處的事實卻又不傷害他呢?我像是個急流裡的泛舟者,前面的水分岔出兩道,而我需要盡快選擇往那一個水道走因為水流用無比的速度將我往前推。可是我都不知道兩個水道的終點是什麼,也不知道如果我不趕快作決定會發生什麼事。
「不要擔心啦,詹姆斯。」大智好像感覺得出我的不安,但是他以為我是因為那陰森森、永遠在黑暗的角落裡的男生緊張。「土豆其實很有趣,對不對呀?」三個人奸笑像圈住獵物的獵狗。
我設法和他們一起笑,可是只發出了緊張的咯咯聲。「你們要幹嘛?」我用我最漫不經心的語氣問。
亞伯特在我還來不及躲避之前打了我的背一下,在我耳邊低聲說,「五點半開演,你可能現在就該去找好位置。」他往九公尺下的寬敞天井指去,我也這時才發現已經有一大群人聚集了。
用強壯的手推著我的背,亞伯特將我推向鐵門後叫我去欣賞好戲。在鐵門觀上前,我瞥見福利曼的橘色大眼無情的望著我,還不知道自己的不幸。
我呆呆地站在門前,無法動彈也不知如何是好。最後我終於跑下樓梯到人群裡,大家都興奮地討論著像是一齣有名的戲劇的開場演出。
「詹姆斯。」我在人們大聲的講話聲中聽見一個溫柔的聲音。雷恩娜鑽進大學生群走向我。她穿著一條深藍色的短裙和無袖背心,顏色襯托著墜掛在她肩上的金黃色髮絲。「詹姆斯,你知道這裡發生了什麼嗎?」
對著仍然空蕩蕩的屋頂看,我無奈地嘆氣,「不知道。一點都不知道。」
就在那時,群眾尖叫著迎接土豆‧福利曼的出現。他的表情和我先前看到的一樣無神得無法解讀。一個恐怖的橘燈從後方照著他細瘦的身體。太陽已經下山了,而天空是個暗沉的黑。亞伯特低沉緩慢的說話聲從喇叭中播出,像是黑暗魔術師。
「今天是十月三十一日。」
大家開始歡呼,都知道這個活動是為了什麼,我也驚覺自己沒有發現萬聖節的到來,直到亞伯特宣布日期時我才注意到系樓門前的南瓜,刻出的醜臉邪惡地向我笑。黑色的紙蝙蝠被掛在窗上,偶爾有風吹入開著的窗戶時就翩翩飛舞。我看著身旁的人時,皺眉著自己竟然沒有發現他們都穿著自己最可怕的服裝。吸血女僕和狼人到處竄著尋找食物,流著黏液的人魚和咬著巨大的牙齒的吸血鬼在我身邊舞蹈著像是地獄一樣。
我看著安靜地站在我身邊的雷恩娜。她從來都不過假日,連聖誕節都不過。她不喜歡去派對因為她不喜歡吵鬧喝醉的人。一開始我感到很困惑因為她都不會做太令人興奮的事,但是跟她交往一陣子後,我慢慢了解她開心的方式,也發現彈著樂器唱著歌比放著大聲的音樂做著無意義的事來得有趣。
在我們上方,亞伯特放大的聲音繼續著,「我們很榮幸有一位特別來賓和我們一起慶祝這鬧鬼的一天。讓我們熱情地歡迎今天的主角:土豆‧福利曼!」
穿著服裝的人群大聲鼓掌。有些人拿著寫著「我們愛你殭屍男!」的牌子,有些人直接用喊的。大家都好像已經期待今天很久了,期待福利曼在屋頂上不知道要幹嘛,或是被幹嘛。
儘管群眾對他的歡呼和尖叫,福利曼站在屋頂上的矮磚牆後、照著他的橘色燈前、萬聖節黑暗的夜空下。他出現後到這時都還沒有動一根毛,我也因為太暗了看不清楚他的臉而無法猜測他想著什麼。我唯一能辨認出來的就是他橘色的大眼睛,在同樣顏色的光中一閃一閃的。
「我們走吧,詹姆斯。」雷恩娜拉我的手要我跟她。「我不喜歡這氣氛。」
我掙脫她的手,雖然不想看福利曼被羞辱,可是離開他放任群眾對他催殘顯得更殘忍。當我把手抽回時,雷恩娜怒視我,責怪著我像大家一樣。
「不是那樣啦,雷恩娜。」她轉身走時我急著說。
「那是怎樣?」她的話像子彈一樣。「你怎麼忍心看那可憐的傢伙被大家欺負?」
「就是不忍心啊。」我說,只敢看著自己的腳。
「那幹嘛不走?」雷恩娜兩手交叉在胸前,站得穩穩的。「你應該去阻止你那些朋友,他們已經很過火了,而且你一開始就應該說不行。」
我的手捲起成拳頭。「你幹嘛怪我?我也是現在才知道的啊!」但她說得很對。我在屋頂上時就應該阻止亞伯特他們了,就應該直接跟他們說福利曼是我的朋友,而我不會讓他們做他們要對他做的事了。誰會在乎他們又像好幾年前那樣排斥我呢?誰會在乎我又像好幾年前那樣殘殺溪水的小生物?
我會。這就是為什麼我不敢和任何人說我和福利曼的親近,也是為什麼我這一次不敢阻止我的「伙伴們」,上一次在學校餐廳裡也不敢。這也是為什麼當雷恩娜問我到底怎麼了時,我一句話都說不出口。
已經問了好多次後的雷恩娜終於放棄詢問,冷冷地看了我一眼後走開了,留下我一個人和腦袋裡想掙脫的煩悶想法掙扎著。
在我上方,福利曼站在橘燈前,任憑亞伯特即興編造的故事玩弄著,配合演出一個殭屍跑到活人的世界裡被捶打。保羅和大智對他推推拉拉的讓他僵硬的動作對上故事無意義的情節。九公尺下的觀眾發瘋似地笑著,對著「台上」的演員們加油。
「公園裡那些人把殭屍男打得血淋淋的後,殭屍男終於了解到活在活人的世界裡是什麼滋味。他發覺比活在死人的世界裡還遭。死人至少不會想殺他,因為他們都知道他已經死了。」
當大智把橘燈往福利曼臉上照時,我看見他們把他的臉塗得紅紅藍藍的,代表著血和黑青。福利曼橘色的眼睛在黑夜中亮著,跟系樓門前南瓜的眼睛一樣亮。然而,殭屍男的眼睛和城市夜空一樣又深沉又空虛。
「殭屍男慢慢小心地站了起來,怕把腐爛的身體扯壞。他把重重的頭平衡在細細的脖子上,然後走像圍繞著看他被打的群眾。殭屍男沒有生氣,他沒辦法有感情,可是當他靠近人時大家都躲開。他不知道怎麼和活人交朋友,也知道那是不可能的事。所以他踩著顛簸的腳步一直走,雖然不知道要去哪裡,可是就是一直往前走,永遠不回頭…」

 1 2 3 4 5 6 7 8 9 10 11 12 13 14 15 16 17 18 19 20 

-羅寗 Michelle Ning Lo